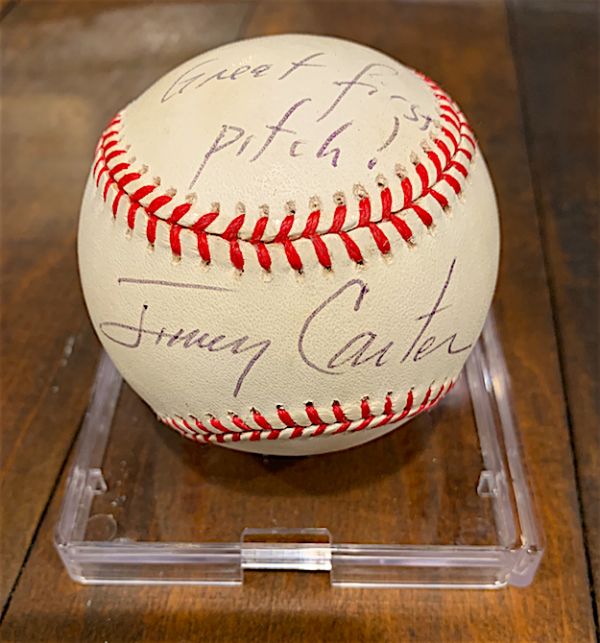 People collect things for a lot of different reasons: the urge to complete a set, the satisfaction of acquiring things, the hope of increased worth, a sense of history, just a hobby, sentimental reasons, or they genuinely enjoy the objects they collect. There are two ways to look at the value of these things: what they are worth to others, or the objective market value, and what they mean to you. That's according to Jeff Foxworthy. You may remember Foxworthy best as the comedian who told why "you might be a redneck." He has a new TV show premiering August 4 on A&E called What's It Worth? in which he explores the value of the things people keep. Foxworthy himself has a collection of baseballs that don't quite fit the mold of collectibles, but they are worth a lot to him. Instead of being autographed by baseball stars, they are signed by his friends, fellow comedians, and country music stars.  
Another baseball that Foxworthy is unlikely to part with is the one he used to throw out the first pitch at a Braves game. "It was during the playoffs," Foxworthy remembers. After Foxworthy did his first-pitch duties, "Someone said, Stand here until they're done with the national anthem, then you can go back to your seat. And as I'm standing there, I look over and there's Jimmy Carter seated in the front row. I had the ball that I had just thrown out for the first pitch, so after the anthem, I turned around and said, Mr. President, would you sign this? And he wrote 'To Jeff. Great first pitch! Jimmy Carter.' Well, that's a great memory of that night, and it's one of those collectibles that has a story behind it."
Read about Foxworthy and his unique baseballs at Collectors Weekly.
Source: neatorama