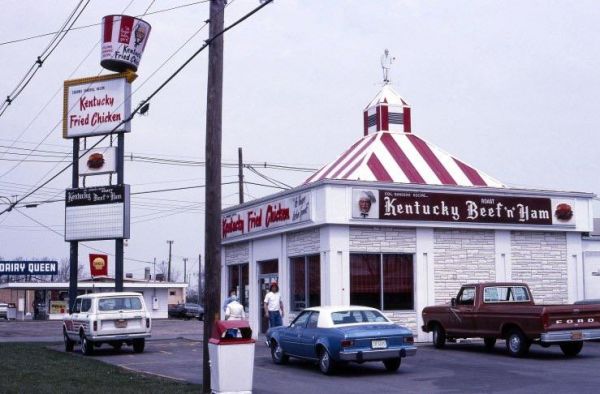 Harland Sanders came to financial success only in his sixties. By then, he was firmly committed to his restaurant vision as not only a means of making money, but serving particular types of food. He was a perfectionist, which sometimes caused conflicts with his business partners, such as former Kentucky Governor John Y. Brown.
In Colonel Sanders and the American Dream, Josh Ozersky describes some of the spin-off businesses that Brown encouraged as Sanders lost control over the company he founded. Among these were a motel chain named Colonel Sanders Inns and a line of British-inspired fish-and-chips shops called H. Salt., Esq., Authentic Fish and Chips (89-91.
Perhaps the most daring venture to accompany Kentucky Fried Chicken was Kentucky Roast Beef. It was modestly successful, but as it was not as wildly popular as the fried chicken, the company eventually dropped the chain in favor of a focus on fried chicken.
-via Weird Universe | Image: Kawanee Historical Society
Source: neatorama