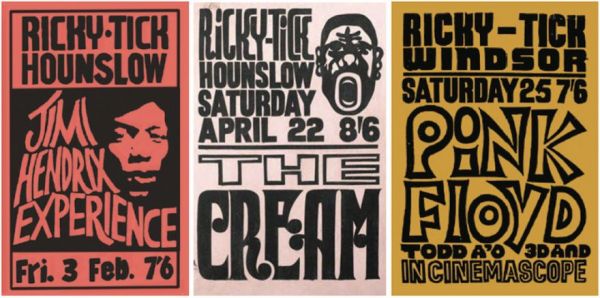 In the late 1950s, two musicians, John Mansfield and Philip Hayward, bought up a string of small clubs in and around London and named them all Ricky-Tick. These clubs were intimate and welcoming, and became a favorite among young musicians trying to hone their craft and try out material in front of an audience. These included bands that made it big, like The Rolling Stones, and bands that didn't, like Hogsnort Rupert and the Good Good Band. Bob McGrath, Hogsnort Rupert's alter ego, played the Ricky-Ticks, designed the posters, and witnessed the early days of many musicians' careers.   
As a participant, McGrath had an insider's view of the birth of the British R&B scene. Of the Rolling Stones, McGrath is matter of fact. "They were good," he allows. "Jagger couldn't sing to save his soul, but Charlie Watts was one of the few English drummers who had any sense of rhythm. It was quite a shock to see their audiences clapping on the right beat, the 2 and the 4 instead of the 1 and the 3. Jagger and Richards had very little interest in anything other than themselves," he concludes. "Apart from Brian Jones, they all seemed like immature assholes."

McGrath also sheds light on why the Ricky-Tick clubs outside of London seemed so much more fun than the ones in the city proper. "London and Soho were mean streets," he says, "even then. It was pretty seedy—drug people, gangsters—not a friendly place to be. I never felt at ease there, and I was there an awful lot."

In contrast, the Ricky-Tick clubs that popped up in the cities and towns of the Thames Valley were welcoming places, notwithstanding the occasional punch-up between rival groups of mods and rockers. Beyond the more relaxed attitude that came with being outside of London, the U.K. in general warmly embraced music performed and/or composed by Black artists. Unlike in the United States during the early 1960s, when rhythm and blues records by Black performers were mostly listened to by Black audiences, white kids in England were fully on board. Thus, when Black performers from the United States such as Sonny Boy Williamson, John Lee Hooker, and Sister Rosetta Tharpe played Ricky-Tick, they were greeted by packed clubs filled with adorning fans, from the predominantly white locals to the Black American servicemen stationed at nearby U.S. Air Force bases in South Ruislip, West Ruislip, and High Wycombe.
Read about the clubs that gave birth to rock 'n' roll as we know it at Collectors Weekly.
Source: neatorama