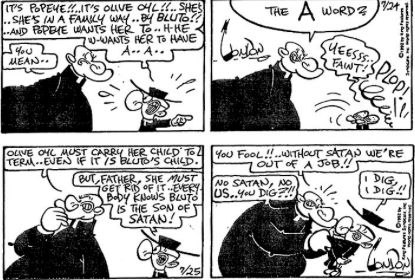 I'm an unapologetic comics fan and even today I read an assortment of newspaper comics that are available online. But what I really like are the old comics created by masters such as V.T. Hamlin (Alley Oop), Chester Gould (Dick Tracy), and E.C. Segar (Popeye).
All of these men have been dead for decades but their work lives on through other artists. One of these 'other' artists was Bobby London, an underground comics artist (Dirty Duck) who became mainstream when King Features Syndicate, owner of Popeye, hired London to continue Popeye since its longtime artist and writer, Bud Sagendorf, had retired. London was hired because he could emulate the artistic style of E.C. Segar so closely that it was difficult to tell the two apart.
Well, you can take the man out of underground comics but you can't take the underground comics out of the man. In 1992, London, who, had been both writing and drawing the strip for six years, introduced a Home Shopping Club storyline for Olive Oyl. Thus began the controversial and final three weeks of the Popeye strip under London's direction. Mike Lynch documents the events leading to London's downfall and provides the fatal continuities.
Of course, this was 1992. Had this continuity appeared today, Bobby London would probably be the Toast of the Town, things being like they are with any and all matters pertaining to Social Justice. You decide.
Source: neatorama