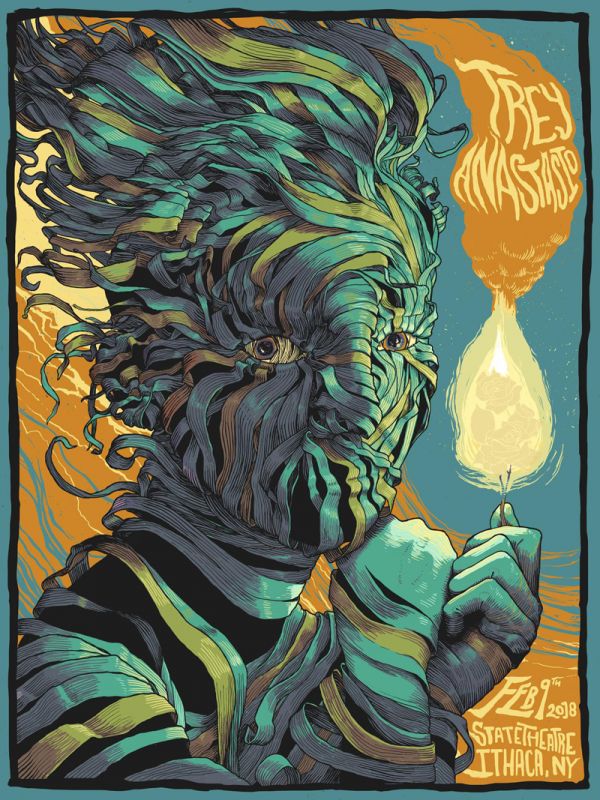 Dave Kloc got his start in poster art by making 310 posters for the stand-up comedy television series The Meltdown that aired from 2010 to 2016. Now, art posters for a television show are not really a thing, and neither are posters for standup comedy night, but when Kloc went to a show, he was assigned the job.
"A friend of mine named Jordan Vogt-Roberts invited me to a comedy show in the back of a comic-book store," Kloc tells me over the phone. "It turned out to be the first 'Meltdown' show. It wasn't like a typical comedy club, a two-drink-minimum kind of place," Kloc says of the 175-seat NerdMelt Showroom behind Meltdown Comics on Hollywood's Sunset Boulevard. "It had a very different vibe. I went up to one of the hosts, Jonah Ray, and said, 'This feels like an old punk show. You should do some posters.' He said, 'Do you do posters?' I didn't, but I knew how. So I said 'Yeah,' he said 'Great,' and after I figured out where to get paper and stuff like that, I did roughly a poster a week for more than six years."
That takes chutzpah. Sow how did Kloc end up as a renowned artist of posters for concerts? While Kloc had never designed posters before The Meltdown, he did have some art training back in Michigan where he grew up. He interests were art, hockey, and music. Kloc, a bass player, quit his band, moved to Los Angeles in 2008, and became a tour manager for other musicians.  
While the work was steady, it was not 52-weeks-a-year steady, which meant Kloc would find himself at loose ends between tours for weeks at a time. "One time after I got off the road," he says, "I went to a concert at a little gallery called Nomad's, which also turned out to be a screenprinting shop. It was the coolest place." Kloc made a deal with the owner, Damon Robinson, to tidy up around the shop and generally help out in exchange for learning how to screenprint. "He taught me the ins and outs of screenprinting," Kloc says of Robinson, "and I helped him print a lot of gig posters."

Kloc's experience with Robinson was the reason he found himself saying "yes" to Jonah Ray at that first "Meltdown" show when Ray asked Kloc if he made posters. In turn, Kloc's experience as the poster guy for "Meltdown" eventually allowed him to make a few gig posters of his own.

"I still had all the contacts I'd made from years of touring, I still talked to those guys," Kloc says. "As I got better at making posters, it became reasonable for me to ask if they needed one for an upcoming tour."

They did. In fact, by the time of Kloc's last "Meltdown" poster in October of 2016, he was already pivoting to a second career as a gig-poster artist, printing his work from a windowless janitor's closet in an apartment building near downtown L.A. "It was just a piece of wood clamped to a table," Kloc says of his makeshift press. "It would be 90 degrees outside, which in L.A. is not uncommon, and 110 in the closet. Between screens, I'd stand outside with my shirt off to cool down, questioning every decision I'd ever made in my life before going back inside to face the heat and humidity. If I needed 30 good posters, I had to print 50. It was awful, but I printed posters there for years."
Read about Kloc's art and see plenty of gorgeous posters at Collectors Weekly.
Source: neatorama