The following article is from the book Uncle John's Bathroom Reader Plunges into California.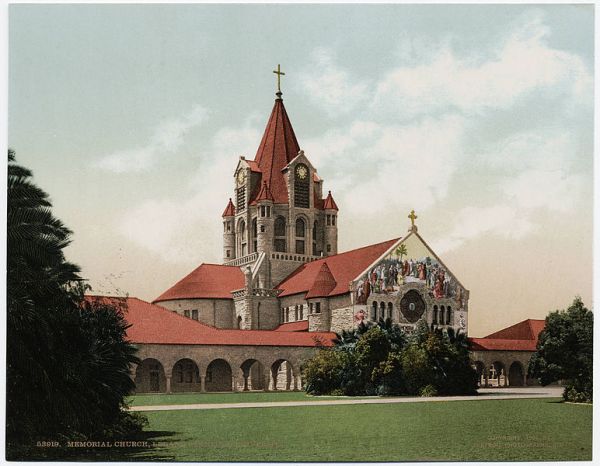 A wealthy woman cofounds a prestigious university as an homage to her son, but soon finds herself embroiled in a bitter fight with the university's president over the school's direction…and then she ends up dead. But who did it?
MIRACLES AND TRAGEDIES
Located in Palo Alto, Stanford University is considered one of the country's top schools—in 2011, U.S. News and World Report ranked it fifth. But Stanford's academic reputation isn't nearly as interesting as the school's great murder mystery.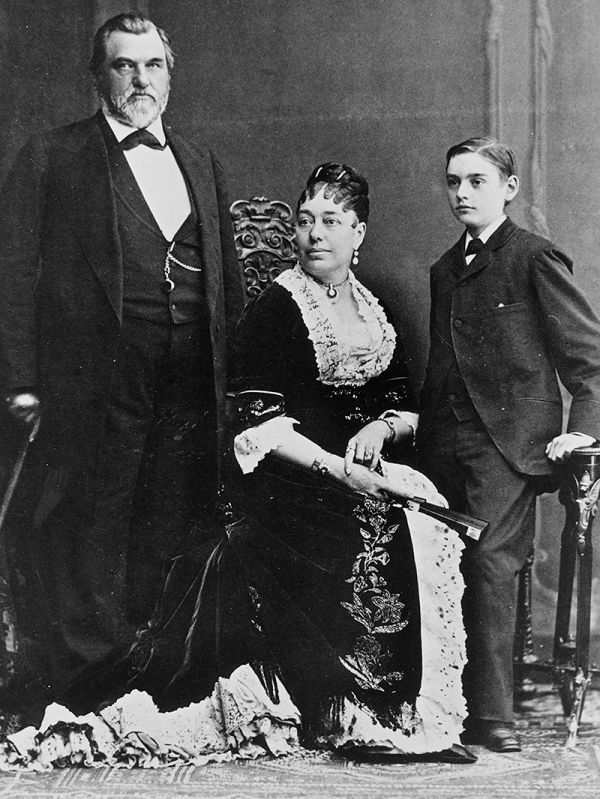 New York–born Jane Lothrop married a young lawyer named Leland Stanford in 1850, and the couple meandered across the country until they settled in California. Leland eventually made a fortune, not in law, but by selling supplies to gold miners at exorbitant prices. By the 1860s, Leland was also California's eighth governor and president of the Central Pacific Railroad. Soon, the Stanfords were one of the wealthiest couples in the nation, and gossips said the only thing their charmed life lacked was a child.
Then, in 1868, when Jane was 39 years old, she gave birth to a son, Leland Jr. At that time, it was uncommon for new mothers to be approaching 40, so the Stanfords called Leland their "miracle baby." He was a cheerful kid who spent happy days on his father's horse farm in Palo Alto. The boy also loved antiquities and wanted to be an archaeologist. His parents thought that was a great idea, so they took him to the Mediterranean to visit several archaeological sites. But during the trip, Leland Jr. got typhoid fever. He died in Italy in 1884.
"I WANT YOU TO BUILD A SCHOOL…"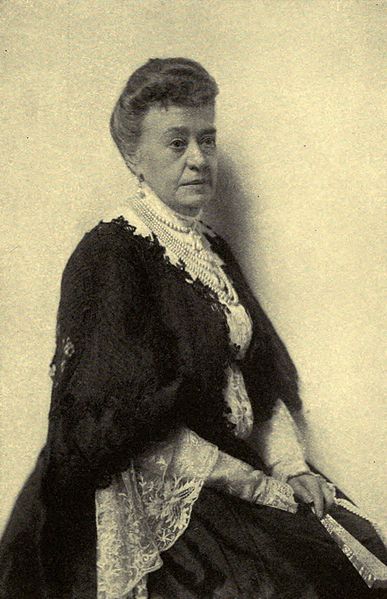 The Stanfords were heartbroken, but decided to honor their son by establishing a university in his name. How exactly they got it all going, however, remains up for debate. According to the 1903 U.S. Congressional report on education: "While Stanford was watching his boy by his bedside and wearied out asleep, he dreamed that his son said to him, 'Father, do not say you have nothing to live for, you have everything to live for. Live for humanity.' While he thus dreamed, the child died." Leland Stanford later said the dream inspired him to say to Jane, "The children of California shall be our children."
But famous psychic Maud Drake always disputed that story. She told newspapers that the idea for the school came from the spirit of Leland Jr. himself, who appeared to his parents during a séance. According to Drake, Leland Jr. instructed his parents to build the school. The Stanfords denied Drake's story (and according to many accounts, they'd already started the school before they saw her), but it was true that they'd attended séances. Like many people in late 1800s (including Victor Hugo, Sir Arthur Conan Doyle, and Queen Victoria), Jane Stanford turned to spiritualists who claimed they could communicate with the dead. She even held séances in her grand mansion on Nob Hill.
Harvard University president Charles Eliot, who advised the Stanfords on how to set up a university, offered a third theory: He believed that the main reason Leland decided to fund a school was because Jane was interested in education. Her husband hoped a school would keep Jane busy and keep her from obsessing about her son's death or the séances that might allow her to talk to him.
SCHOOL DAZE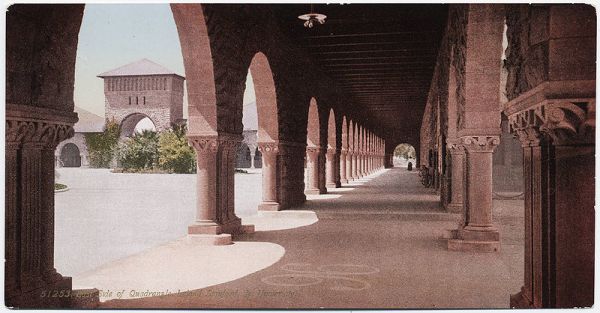 Whatever the reason for its founding, Leland Stanford Junior University opened in 1891 with an enrollment of 559 students. The school was co-ed, one of the first in the nation to admit women. Less than two years later, however, Leland Stanford died and the government sued his estate to recoup money borrowed by the Central Pacific Railroad. Stanford's assets were frozen and the school suddenly had no access to any of the family money that had been keeping it going. The university was on the verge of being shut down.
No one expected much from Jane. Everyone figured she'd be too overwhelmed by her husband's death to do any good. Instead, she single-handedly kept Stanford open. She slashed her own allowance so that she could give the school nearly all her earnings as the executor of her husband's trust. She rented out land that she owned and gave Stanford that money. She even tried to sell all her jewels, though she had trouble finding buyers. What Jane wouldn't do—even though administrators advised it—was charge students tuition (which was free until the 1930s) or temporarily close the school.
It worked. Thanks to Jane, the university made it to 1895, when the government dropped its case against the Stanford estate. Jane took over her late husband's fortune and suddenly had about $30 million to devote to Stanford.
THE PLAN'S AFOOT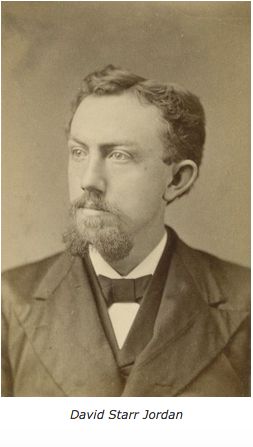 Once the money problems were behind her, though, Jane found herself at odds with Stanford's president, David Starr Jordan. They disagreed over the school's educational policies—he wanted more science; she wanted liberal arts. They also fought about money, how Stanford hired and fired its professors, and many other things. Jane took every battle personally because she ran the school the way she thought her son and husband would have wanted her to. She was also very rich and powerful… and she wasn't the compromising type. By 1904 there were rumors she planned to fire Jordan.
Then in January 1905, Jane Stanford was nearly murdered. Every night before bed, she drank a bottle of mineral water that was placed on her nightstand by someone on her household staff. But on this particular night, Jane took a sip and immediately spit out the liquid—and then tried to make herself vomit anything she might have ingested. She thought the water tasted strange and, after having it tested, discovered that it contained enough strychnine to kill a person in minutes. Police and private detectives investigated the poisoning but couldn't find the culprit.
MURDER MOST FOUL
Jane decided she wasn't safe in San Francisco, so the next month, she and her secretary Bertha Berner left for Hawaii and moved into the Moana Hotel in Honolulu. But their escape didn't last long—on February 28, Jane drank a bicarbonate of soda that Berner had prepared, and then went to bed. Within a couple of hours, she woke up convulsing and screaming, "I think I have been poisoned again…This is a terrible death to die!" Several doctors tried to help her, but Jane didn't make it. She died that night.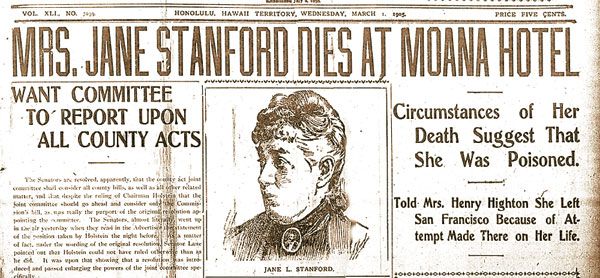 Seven doctors conducted an autopsy in Honolulu, and all agreed on the cause of death: strychnine poisoning. But President Jordan wasn't buying it. He left for Honolulu at the news of Jane's death and hired his own doctor to write a report that debunked the poisoning. Then Jordan announced to the press that Jane had died of heart failure and any doctor who said otherwise was incompetent. Following his statement, the San Francisco police department dropped its investigation into the original strychnine incident. He also discredited Jane herself, implying that her claims that she was poisoned were the emotional ravings of an irrational woman (her history with séances didn't help matters). In the end, everyone accepted Jordan's theory. Few people knew he and Jane had been at odds, and Stanford was a prestigious university. Its president carried a lot of weight.
A "MYSTERIOUS DEATH"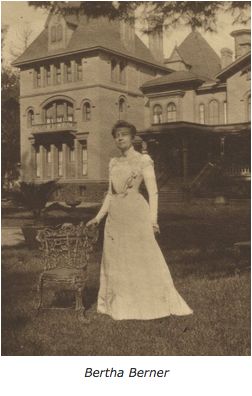 History accepted the verdict of heart failure until 2003 when Robert Cutler, a physician and professor emeritus at the Stanford School of Medicine, published The Mysterious Death of Jane Stanford. Cutler made a good case for the fact that David Starr Jordan had a motive to kill Jane Stanford—according to Cutler, she was close to gaining enough support from the board of trustees to fire Jordan. As a result of Cutler's investigation, most historians now believe she was poisoned and that Jordan covered up the crime.
But who actually bought and administered the strychnine remains a mystery. Over the years, some have accused a maid and a butler, but the two main suspects have always been Bertha Berner and David Starr Jordan. Berner was there at both poisonings, but she had no motive. As Jane's personal secretary, Berner was treated like a friend. She traveled the world, was paid a good salary, and seemed quite fond of her employer.
Jordan, however, had a lot to gain. With Jane Stanford out of the way, he kept his job and he had access to millions of dollars left for the school in trust. But there was no proof Jordan had access to Jane's mineral water or the bicarbonate of soda. If he bribed one of her employees, a friend, or the pharmacist to poison her, no one ever said a word. And so the case remains cold.
___________________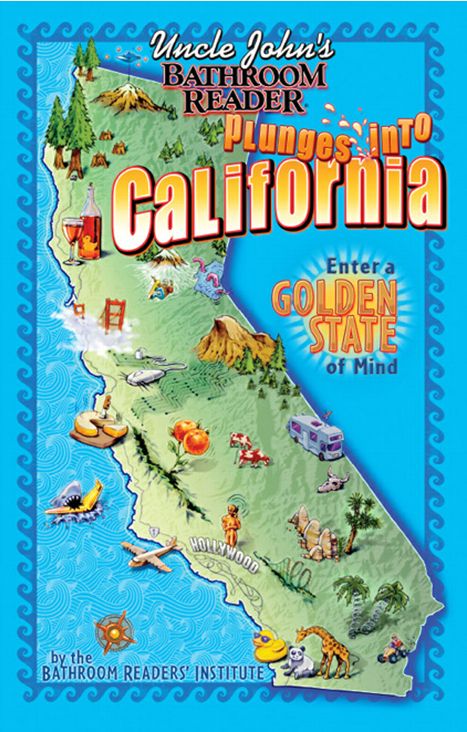 The article above was reprinted with permission from Uncle John's Bathroom Reader Plunges into California. This volume brings you stories of the Golden State you've never heard before. You'll meet child prodigies, spies, traitors, celebrities (and sidekicks), gossips, hermits, humanitarians, and zealots.
Since 1988, the Bathroom Reader Institute had published a series of popular books containing irresistible bits of trivia and obscure yet fascinating facts. If you like Neatorama, you'll love the Bathroom
Reader Institute's books – go ahead and check 'em out!
Source: neatorama