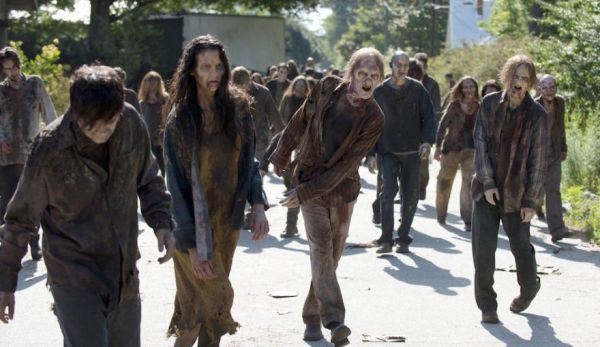 The season seven finale of The Walking Dead is this Sunday night. The series has fallen into a habit of killing off important characters at the end of the season, except for last year's ridiculous cliffhanger, which angered viewers. Tensions are high between the surviving communities of Virginia in the zombie apocalypse, and it's time to place your bets on who will bite the big one by season's end. Place your predictions in the poll (you can choose more than one), and continue reading for a rundown on each character with spoilers galore.
Rick, as always, is bulletproof.
Carl is a question mark. Actor Chandler Riggs plans to attend Auburn University this fall, at the same time his seven-year contract ended. Soon after announcing both on social media, his family had to backtrack because of the immediate rumors of Carl's demise. Riggs says it's possible he can attend classes and still work on the show, but no one is giving any definitive answers.
Daryl seems pretty safe.
Carol will survive. She's too popular not to. Besides the audience, it seems every man she meets is enchanted by her. That's a complete turnaround from season one, but it's nice.
Morgan will survive into season eight. His character is changing again, and we'll need to see how he is when he comes out of his latest psychological crisis.
Maggie will survive this next episode. I think we'll see her completely taking over the leadership of the Hilltop community eventually, and staying alive at least until her baby is born.
Michonne is safe, fingers crossed.
Judith could live, die, or just not be seen for several episodes and no one would know the difference. I don't think she will factor into the upcoming unpleasantness.
Sasha is toast. Actor Sonequa Martin-Green has a lead role on the new Star Trek series coming this fall. The only question is whether she'll commit suicide, be executed, or go out swinging. Bye-bye Sasha!
Tara might be sacrificed, but I hope she lives at least long enough to see Heath again, or return to Oceanside as a hero.
Rosita has all the earmarks of a doomed character: specifically, more character development in the last few episodes, after years of playing window dressing. She's also ready to sacrifice her life to kill Negan, who has already murdered two of her boyfriends. If more than one character dies, she's likely to be one of them.
Eugene could die. He may pay for switching sides soon, even if he has our sympathy for his weakness. However, that probably won't be until next year.
Aaron and Eric were out on mission together in last week's episode. That hasn't happened since we first met them, and doesn't bode well for both of them surviving.
Enid will be okay. I don't see her being put into as dangerous a situation as the others.
Dwight will live. He's got an extended story arc coming that you can see a mile away.
Jesus will live. We haven't seen enough of him.
Gregory is a tossup. Oh, he will die, alright, but it might be this week, or next year.
Simon may very well die, which would be a shame since he's a hoot as an evil character.
Negan won't die. Actor Jeffrey Dean Morgan has a contract for season eight.
Ezekiel will survive to fight another day. He's too interesting and too new to bow out now. And who would feed his cat?
Jerry will survive into season eight, I think, although he may lose his cheerfulness when the battle gets tough.
Sherry and Heath are missing in action. I think Sherry will reappear sometime. Heath may be back, since actor Corey Hawkins' series 24 Legacy is seeing its ratings slowly sink. If the show is canceled, Heath may escape death, but we probably won't know -or see him- on The Walking Dead until late in season eight. If 24 Legacy is renewed, we just might see Heath appear on TWD just long enough to die.
POLL: Who will die this week on The Walking Dead?
Rick
Carl
Daryl
Carol
Morgan
Maggie
Michonne
Judith
Sasha
Tara
Rosita
Eugene
Aaron
Eric
Enid
Dwight
Jesus
Gregory
Simon
Negan
Ezekial
Jerry
I don't know -just show me the answers!
Source: neatorama