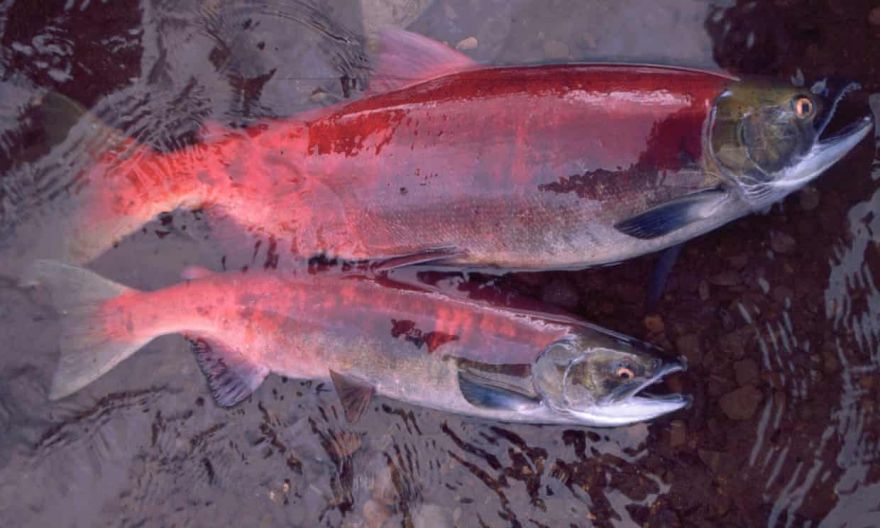 For four decades, Richard Burnham has been commercially harvesting salmon in the Alaska village of Katlag. Over the years, however, Burnham, as well as the fishermen, noticed something was off with their catch.
"At first, it was just a general comment by everybody: 'The fish, yeah, I didn't get any big ones this year,'"
It wasn't bad luck, however. The fish really had become smaller over the years.
… a new study has borne out those observations on a huge scale, documenting body size declines in fish across the entire state of Alaska in four different species of salmon: chinook, sockeye, silver and chum.
Alaska is "the last largely pristine North American salmon-producing region", the authors write. Yet the size of the Yukon region chinooks – the largest of the four salmon species – has diminished the most, by 10% compared with those caught before 1990.
The bodies of commercially valuable sockeye shrank by 2% statewide, and silver salmon grew 3% physically smaller.
But why?
It would seem that there are two reasons why the fish have become smaller: climate change, and competition.
One likely factor, the authors say, is climate crisis-driven changes in the quality or availability of the fishes' food. A second constant, albeit weak, dynamic was that all four species were smaller when they were competing with larger numbers of a fifth species of Alaska salmon, the hatchery-raised pink.
Learn more details about this study over at The Guardian.
(Image Credit: Andrew Hendry/ Reuters/ The Guardian)
Source: neatorama