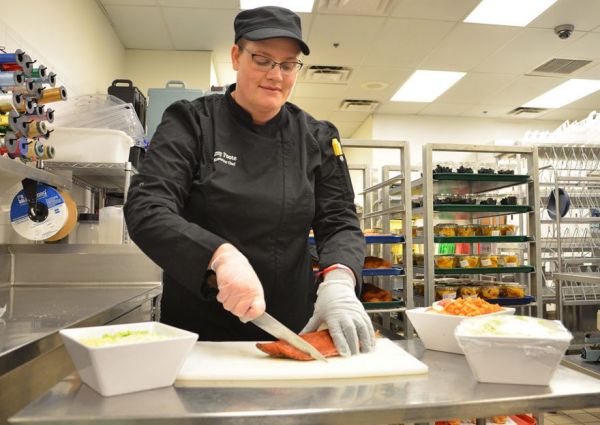 Going for a hospital stay is no fun, especially if you must travel far from home to do it. Then they serve bland, overprocessed foods that you're not all that familiar with and not inclined to eat. That was the law in Alaska until a few years ago, and those bland foods are frightfully expensive there, too, but things are changing.
You're not going to find jello cups on the menu at Alaska Native Medical Center in Anchorage, Alaska. Instead, patients and visitors choose between reindeer pot pie, smoked hooligan, birch sourdough biscuits with fireweed jelly, herring roe, salmon-belly or seal soup, and Eskimo ice cream (made with animal fat, fish oil, and berries).

Depending on the season, the hospital's Executive Chef, Amy Foote, receives boxes of fiddlehead ferns and spruce tips trimmed in the late spring, coho salmon and halibut caught in late summer, cloudberries and blueberries picked and packed in the fall, and whale or other game meat in late winter. They are all donations, sent in by a state-wide network of hunters and gatherers who keep ANMC's traditional foods program stocked with the ingredients that Alaska Natives have routinely enjoyed for generations.
Chef Foote tells us how the traditional foods program came about and how it works in her hospital at Atlas Obscura. 
(Image credit: Alaska Native Tribal Health Consortium)
Source: neatorama