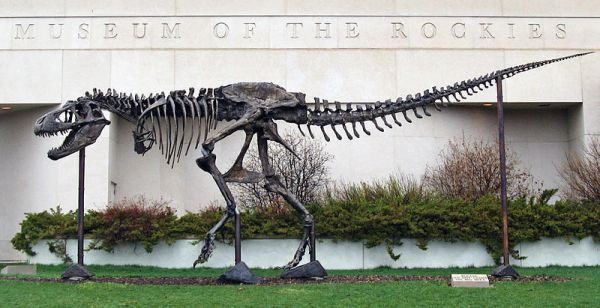 You might be surprised to learn that the U.S. Army owns a huge collection of fossils of dinosaurs and other extinct species. It wasn't on purpose. The Army Corps of Engineers controls eight million acres of land, procured through their flood control projects that began in the 1930s and moved vast amounts of earth up through the 1970s. All that digging revealed archaeological and paleontological treasures.
While many of these fossils are left in situ, like in Coralville, the Corps has taken pains to excavate certain superstar specimens. In 1988 in the Fort Peck Reservoir in Montana, amateur fossil hunter Kathy Wankel saw something sticking out of a slope in the Hell Creek Formation, a spectacularly rich fossil site. Wankel remembers the fortuitous way the light fell on the cornice of stone, illuminating a webby pattern of bone marrow, she told The Washington Post. It was Corps land, so in the years that followed, the Army brushed away the dirt to reveal a 38-foot-long Tyrannosaurs rex skeleton, almost 90 percent intact. Known scientifically as MOR555 and casually as "Wankel's T. Rex," the skeleton was a paleontological gold mine—the first tyrannosaurus found with a complete, laughably tiny arm.
Wankel's T. Rex is on display to the public, as are other army fossils, but the vast majority are still waiting too be studied and cataloged. Read about the Army Corps of Engineers' fossils at Atlas Obscura.
(Image credit: Greg Goebel)
Source: neatorama