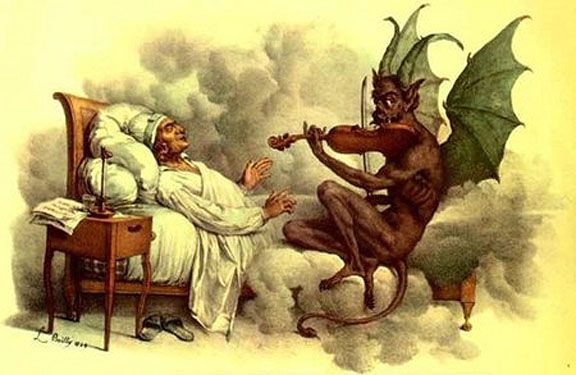 Virtuoso violinist Niccolò Paganini packed concerts with fans who believed his talent came from the devil in the 19th century. Charlie Daniels told us about how the devil went down to Georgia. But those examples were only two in a long line of stories depicting the devil as a fiddle player.
The image of Satan as a fiddler took off during the Baroque period, beginning around 1600. When Thomas Balthazar played in England in 1655, a music professor at Oxford reportedly stooped down to inspect the German virtuoso's feet to make sure they weren't cloven hooves. Later, "Devil's Trill Sonata," which dates from 1740, was said to have been composed by Giuseppe Tartini after he woke from a fevered dream in which the Devil played him a solo "so singularly beautiful and executed with such superior taste and precision, that it surpassed all he has ever heard or conceived in his life," wrote 18th-century French astronomer and music enthusiast Jérôme Lalande.
Read about the origins and progression of the concept of the devil as a violinist at Ozy.
Source: neatorama