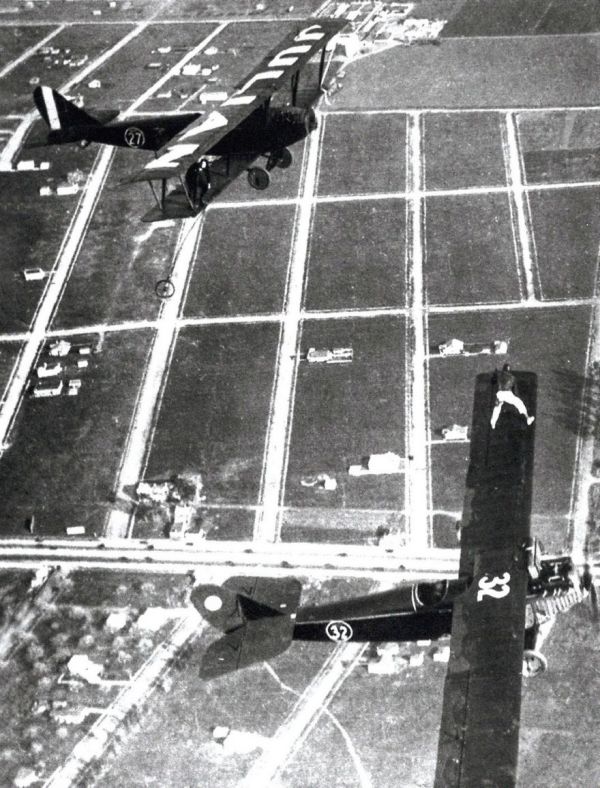 The days of early aviation were crazy, man. F. Gerald Phillips was a Hollywood stunt pilot. He recalled that one time he took off before a landing gear wheel was bolted to his plane. Phillips was carrying a cameraman to film an aerial stunt, so there were plenty of guysy aviators around. First, he lined up with another plane, and wing walker Al Johnson walked over to Phillips' plane.
He climbed through the rigging to the step at the side of my cockpit. Leaning in, he shouted over the engine noise, "Hi, Jerry. Cruise around close to the field. They'll bring up a wheel. I'll get it and put it on for you." It was almost casual.

Bob Lloyd, another motion-picture pilot, took off with Ivan Unger, a wheel, and 20 feet of rope. Ivan, in his early 20s, was a professional wingwalker and parachute jumper, short in stature but long on courage. He had flown with me on many a Sunday show, hanging by his feet from the wing skid or landing gear.

At 1,500 feet and 70 mph Al made an extremely difficult job look easy. Grasping the short strut on top of the upper wing, he nimbly hoisted himself up and assumed a crouching position to await the rendezvous with Bob, Ivan, and the wheel. Soon they approached from behind, slightly above and to my left, and Ivan began lowering the rope, the wheel dangling at its end.
It wasn't an easy task. They dropped the first wheel, and the second wheel wouldn't fit. Then the engine died. That's when they had to get creative. You can read Phillips' entire account of the air emergency at Air & Space magazine. -via Metafilter
Source: neatorama