The WoodenWood Project explores what can be created when unused wood waste and robotic printing come together. With millions of tons of wood waste created annually, it's a case study and proof of circular solutions for wood products and processes. Developed by architect Avraham Cohen, Yuval Berger, Alon Nisan, Yoav Dabas, and D.DLAB director architect Shany Barath, the project incorporates traditional modular woodworking with robotic printing that uses an all-natural wood paste to create prototypes of seating elements. In this case, a low-slung chair and a counter height stool.
Although there's so much potential for reuse, renewal, and biodegradability, today's wood chain is far from circular. The hope of the WoodenWood Project is to create a continuous lifecycle for the material by introducing a fresh approach to designing with waste materials that combines traditional and advanced fabrication methods to reach zero waste design.
The wood paste used for printing is derived from Daika, sawdust with cellulose-based natural binders to enable 100% biodegradability. A parametric model and manufacturing workflow were developed to correlate between the chair geometry, robotic toolpath, and material properties. The results are examined in relation to strength, elongation, visual expression, and geometrical compatibility to customize human comfort.
Using this process, there are a lot of possibilities to create a unique chair within mass production workflow. While the solid raw wood supports the structure of the chair, the printed sawdust completes the woven back and seat. The printing toolpath creates a new wood textile that resembles a rattan texture while using sawdust. The raw wood structure serves as the mold for the printing process, avoiding additional waste by-products.
The WoodenWood Project was exhibited in Milan Design Week 2023, earning a mention as one of 12 projects in the sustainability category by Fuorisalone. Furthermore, the Design Educates Awards 2023 jury selected the project for a gold prize in universal design, and the team as the emerging designers of the competition.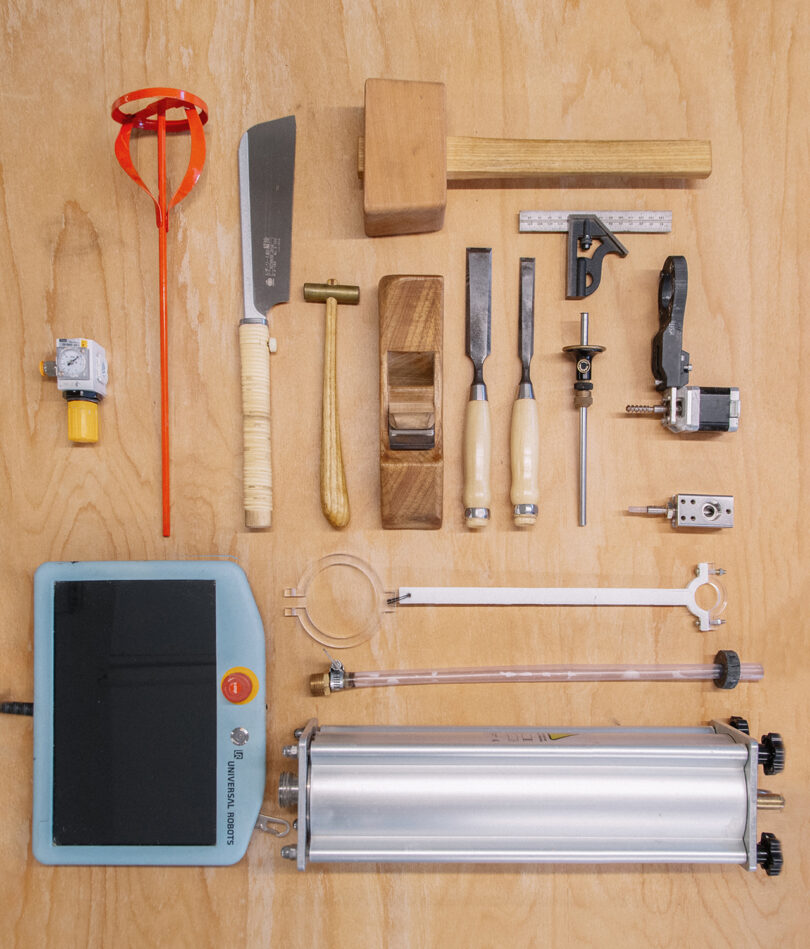 To learn more about the WoodenWood Project, visit ddlab.net.technion.ac.il.
Source: design-milk