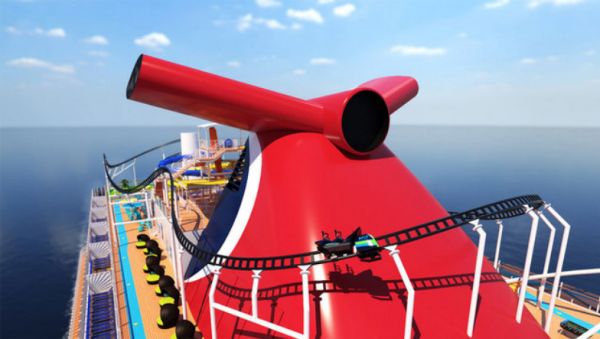 What do you do if floating on the ocean on a large boat doesn't make you seasick enough? Add a roller coaster! The Carnival Cruise ship the Mardi Gras will boast an onboard roller coaster called The Bolt when it launches in 2020.
The roller coaster contains 800 feet of track reaching speeds of nearly 40 mph.  It will give riders 360-degree views of the water 187 feet above the ocean as it makes its way around the ship's red funnel.

Riders can control how fast they go.
There's no word yet on whether the roller coaster cars are seaworthy themselves, in case they detach from the track. Either way, I wouldn't stand underneath the coaster, especially after the buffet lunch. See a video ad for the Bolt at Fox5. -via Dave Barry
(Image credit: Carnival Cruise Line)
Source: neatorama