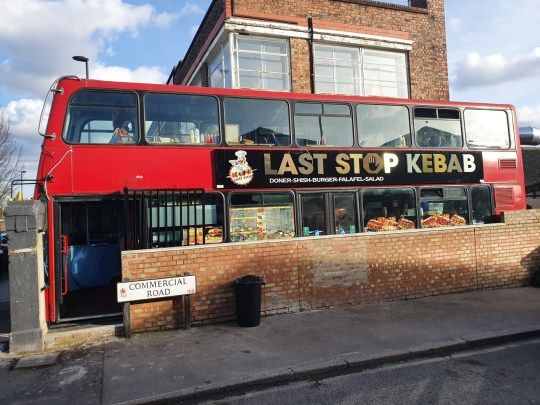 Firat Amara turned a London double-decker bus into a kebab shop. Last Stop Kebab, located in Edmonton, serves Turkish food inside a renovated double decker bus. The shop can seat 40 customers at a time. Amara conceptualized the shop in December, bought a real double-decker bus 20 days later, and spent two months renovating the place. Metro has more details:
Firat and two colleagues had to remove some seats, remove the engine and the back tyres to allow space for tables, chairs, a kitchen and the all-important doner kebab machine. The gas, electricity and water needed to run the business comes from the supermarket next door that Firat part-owns.
There were a lot of people in the Edmonton area asking for hot food, both residents and visitors and employees of North Middlesex hospital because the nearest restaurant is a 20-minute walk away. Firat was determined to think outside of the box and use his 25 years' kebab experience to start something revolutionary. He said: 'I was always going to do it because at the end of the day what you put in is what you get back.'
'So far, it's working very well, I'm so happy and they make me so excited each time.' The kebab bus serves a combination of kebabs, fresh salads and delicious wraps to customers every day from 11 am to 3 am. The original bus has been so successful, Firat is already thinking about buying more buses for restaurants in central London and Stratford.
image via Metro
Source: neatorama