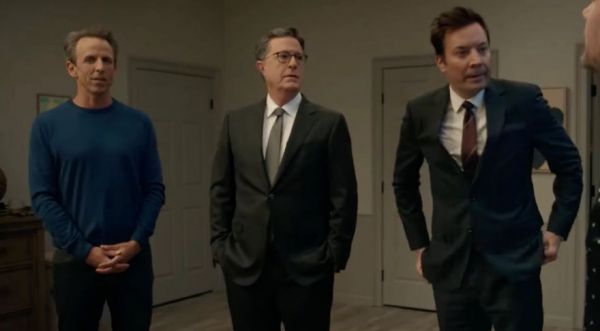 The Late Show with Stephen Colbert took a week's vacation, and returned Monday …for one night. Now that vacation is extended indefinitely as the Writers Guild of America has gone on strike. In addition to Colbert, the strike affects Jimmy Kimmel Live!, The Tonight Show, Late Night with Seth Meyers, The Daily Show, Saturday Night Live, Real Time with Bill Maher, and Last Week Tonight.
The writer's union was in talks with the Alliance of Motion Picture and Television Producers (AMPTP) until Monday when negotiations about film and scripted TV writing contracts broke down. Talk shows are only the most immediate victims of the negotiation failure; other shows with longer production lag times will be affected if an agreement isn't reached. The reasons behind the contract disagreements are complicated, but mainly comes down to the money involved in streaming platforms.
A protracted writer's strike in 1988 led the industry to develop reality TV, which isn't exactly real, but replaced scripted TV with improvised plots using non-actors and no professional writers. Some worry that if the current strike isn't resolved soon, it could lead to TV and movies being written by artificial intelligence algorithms.
(Image credit: The Late Late Show with James Corden)
Source: neatorama