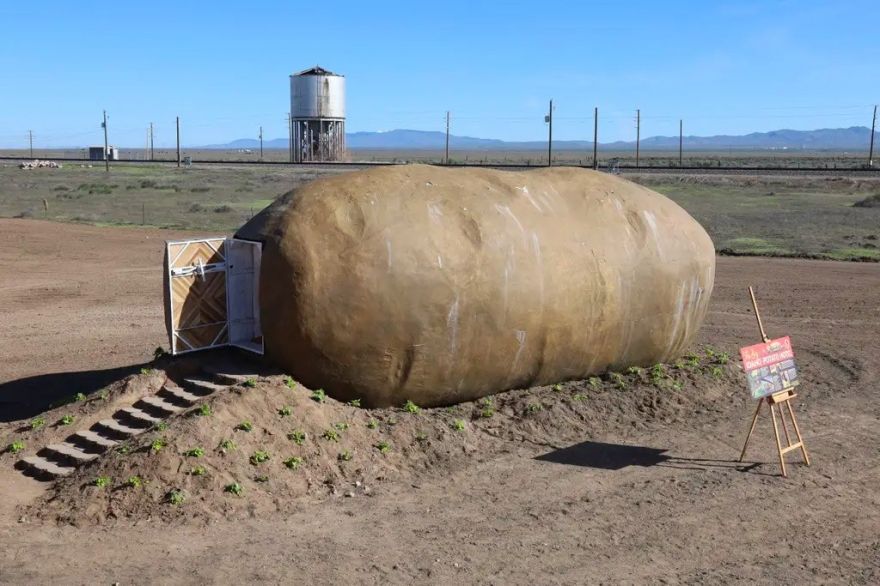 It's a big potato, even by Idaho standards. It's 28 feet long, 12 feet wide, and 11.5 feet tall, not counting any bacon bits that you sprinkle on top. Staying at the Big Idaho Potato Hotel outside of Boise will cost you $242 per night.
The building started out as a prop that the Idaho Potato Commission made 6 years ago. It was driven across the United States to promote Idaho's most famous product. When the advertising campaign was done, real estate developer Kristie Wolfe asked to convert it into an Airbnb rental. The Idaho Statesman reports that, compared to most potatoes, the living conditions inside are luxurious:
With 336 square feet, it includes a queen-size bed, two easy chairs, an elk antler chandelier, a small sink, lights, heating and air conditioning, and a beverage cooler. There's a separate bathroom that looks like a miniature steel silo with a round corrugated steel tub, a walk-in shower and sink and toilet.
-via Unusual Places
Photo: John Sowell
Source: neatorama