When New Yorker Robin Huffman went on hiatus from a design job at Gensler to volunteer at Ape Action Africa in the jungles of Cameroon, she realized it would be a new adventure but couldn't have known that it would alter her life in so many ways. While it opened her eyes to the great work being done in primate conservation, both in Cameroon and beyond, the experience also transformed Huffman into an artist and primate activist. Over the last several years, she has been painting large-scale hyper-realistic portraits of the various primates at Ape Action Africa. At Witness, Huffman's first exhibition at New York City's Explorer's Club, she presented dozens of these paintings and spoke on behalf of conservation efforts. The presentation was Huffman's narrative journey in Cameroon, one that is equal parts artistic revelation and a documentary of Ape Action Africa's unique primates and the employees and volunteers who care for the creatures that have, in so many different ways, been devastated by human activity.
Huffman tells Creators that the reason she ended up painting was because there were no distractions in the jungles of Cameroon. There was no internet or phones, no village, and the volunteers weren't supposed to interact with the African staff after hours, to keep professional lines drawn.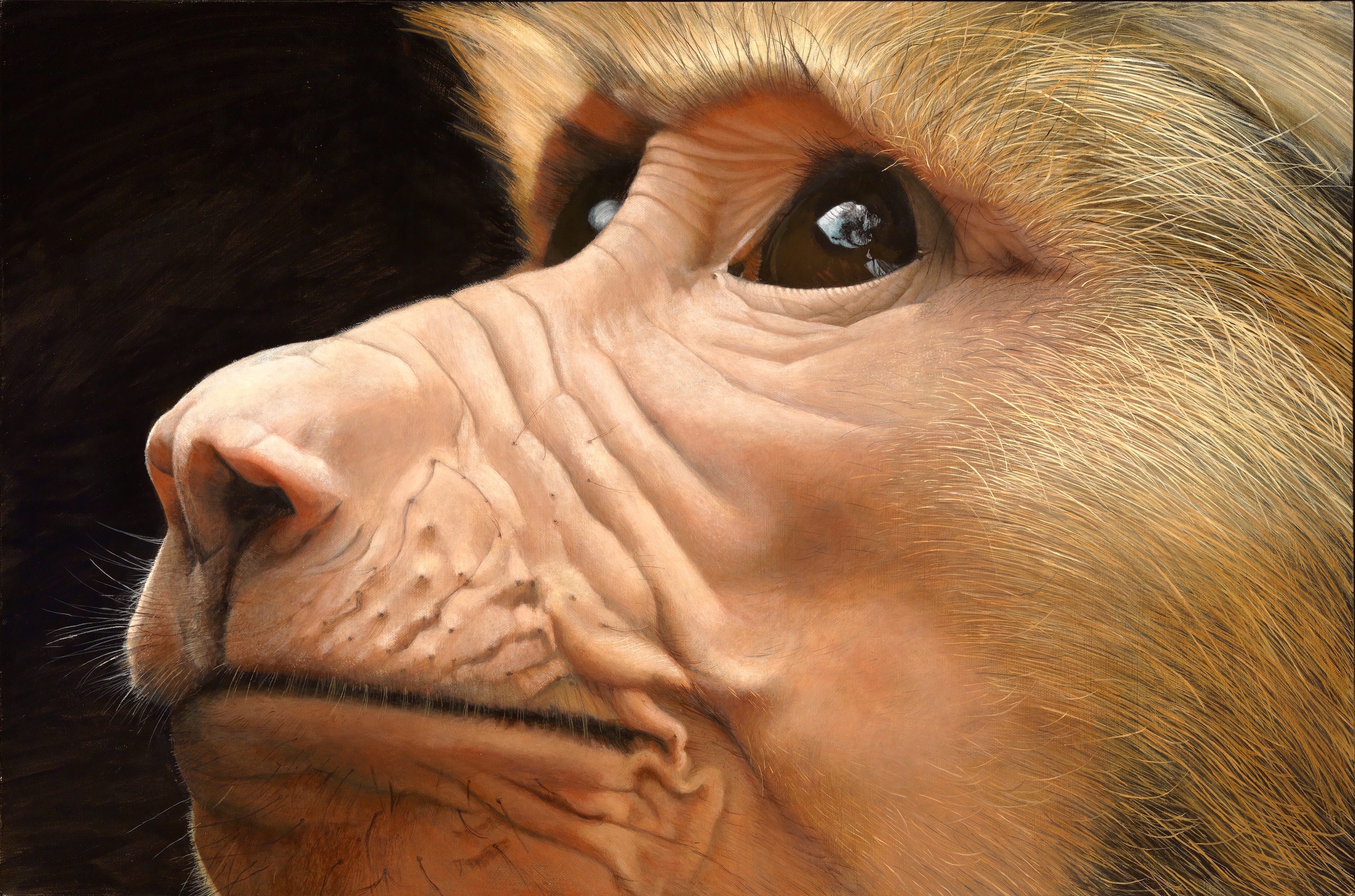 "You could make a phone call, but that would tend to be at sunset when it's time to call the United States, and sometimes you'd get hit in the head with an avocado pit because the only place you could make a call was by the big gorilla enclosure," says Huffman. "It was already disturbing their peace because it was twilight, which is their bedtime. It's so much more of a natural rhythm there, and they all go to sleep when it turns dark and they wake up at first light, and I do, too."
Unlike the apes, Huffman doesn't go to bed right at dusk. After a long day of volunteering, she might relax in her room with a book. But a series of events at the sanctuary eventually pushed Huffman into the practice of painting portraits of primates.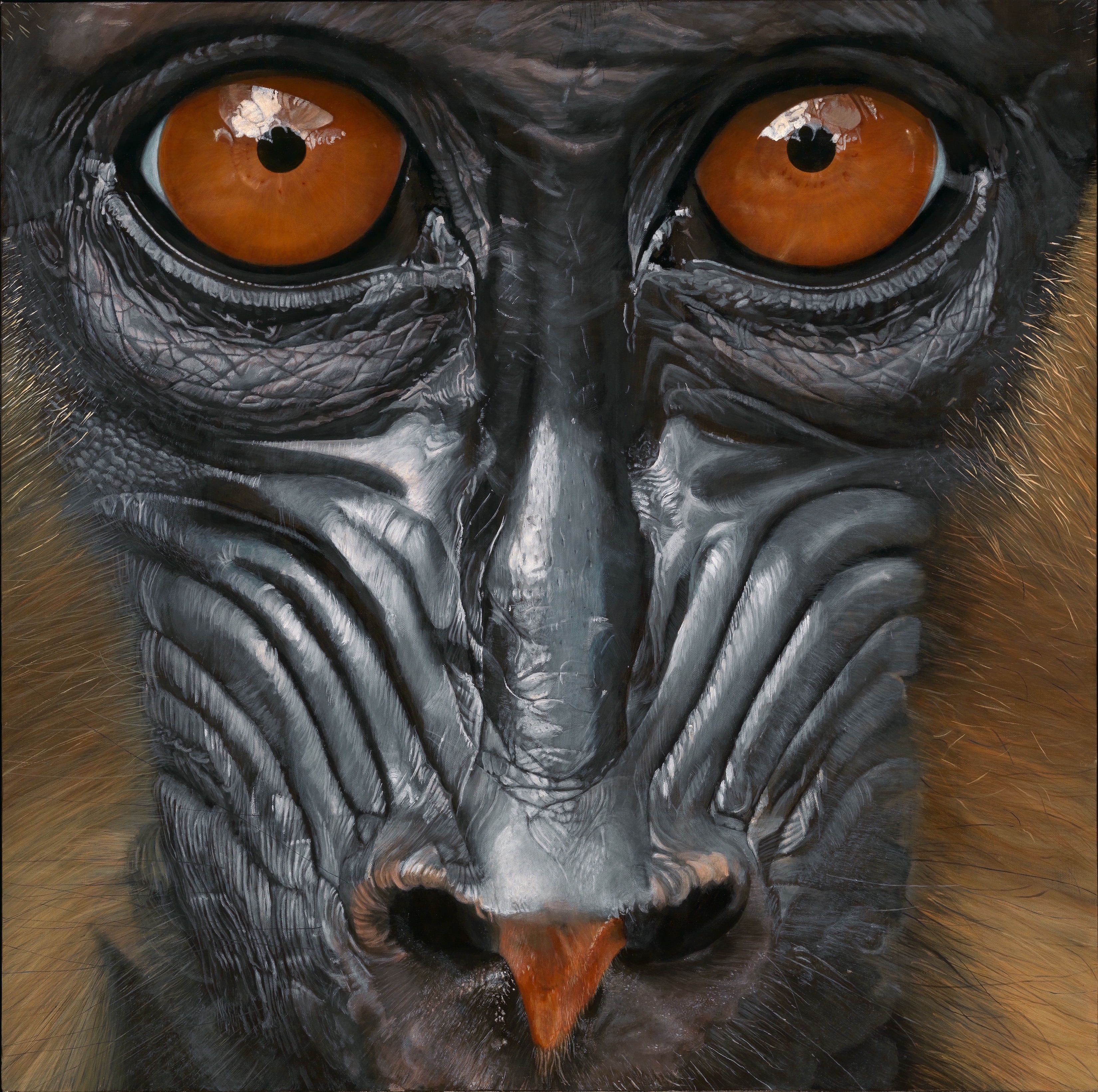 As Huffman recalls, there was an incident with some of the sanctuary's signage, which required new signs. Rachel Hogan, Ape Action's then manager and current director, asked if any volunteers wanted to take on the project. Huffman and a 21-year old American art student, who had been practicing painting gorillas and chimps for a year in anticipation of this trip, volunteered.
"So, she painted the gorillas and chimps, I did the layouts, anything that had straight lines, and all of the lettering," says Huffman. "Then Rachel asked the student if she would paint a monkey, and she replied, 'I just paint gorillas and chimps.' So, I said, 'Well, I love my monkey, I'll paint her,' so I painted Maasai. Rachel saw that and asked if I would paint a mandrill, and I said yes."
Because there wasn't much money, all Huffman had for materials was ⅛-inch plywood, bad quality gloss enamel color and black and white paint, and crap paintbrushes. Out of necessity, Huffman learned to mix her own colors, using only minimum hues. Soon, Huffman found herself painting portraits of the first two gorillas that Hogan raised, as well as a portrait of Ape Action employee Apollinaire and his favorite gorilla. Apart from the painting, Huffman also helped create functional and comfortable interior design for Hogan, Apollinaire, and others' living quarters.
Huffman says that the "baby-mommy gaze" that was exchanged between her and Maasai had a profound impact on the look of her paintings. Although the original work focused on the primates' faces, with particular emphasis on the eyes, they were small, so Huffman's friends encouraged her to make the paintings large-scale. The result is that facial details jump out at viewers, communicating that these primates are very complex and social beings.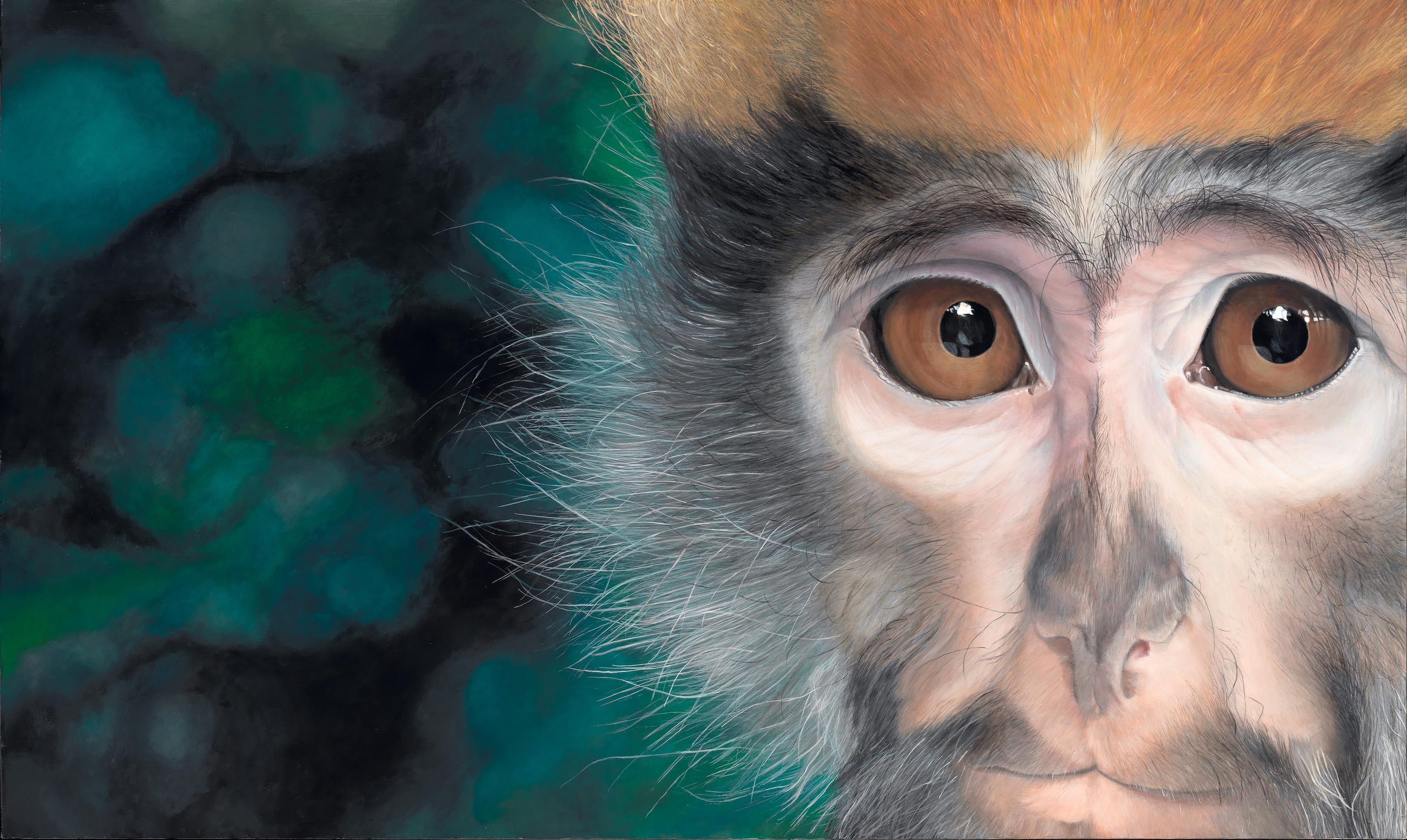 "When I paint, I work on the eyes first because then, for me, they are alive," says Huffman. "It feels very much like they're present and I'm never lonely, even though many times I'm painting by myself. I have such peace because I have that relationship with them."
"I never hurry myself, I never put myself on a deadline, because I don't want it to be an experience that is not a pleasure, and I feel very strongly that they deserve my best and full attention," she adds. "Since I'm painting to tell their stories, I also feel that this scale is important because it's the dialogue. If it's small, it doesn't hold the same power of conversation—you can't look in the face of those big paintings and think that that is not an intelligent and emotional being deserving of its own free life."

Huffman says that each painting takes 150 hours or more, with three or four hours of work per day before it's complete. And because she never intended to have a career as an artist, the work isn't done on a regular, day-by-day basis. But when the paintings are done, they have a certain power to them that resonates deeply with people.
"It just so happens that my paintings give me a voice for the animals that gives me different venues," says Huffman. "Probably if I didn't have that corporate background and I didn't have these paintings I wouldn't be in The Explorer's Club, but now many, many people can know about primates."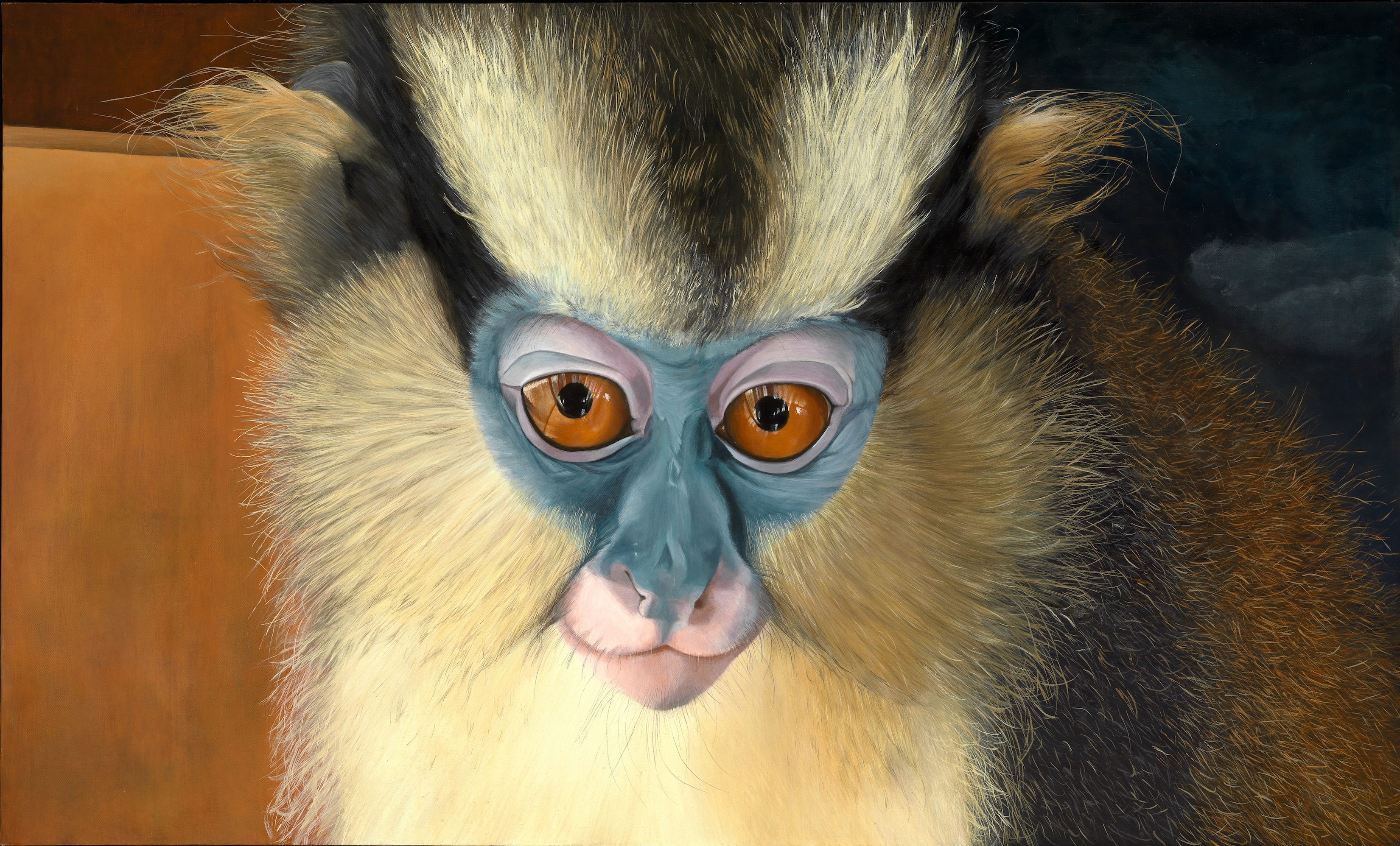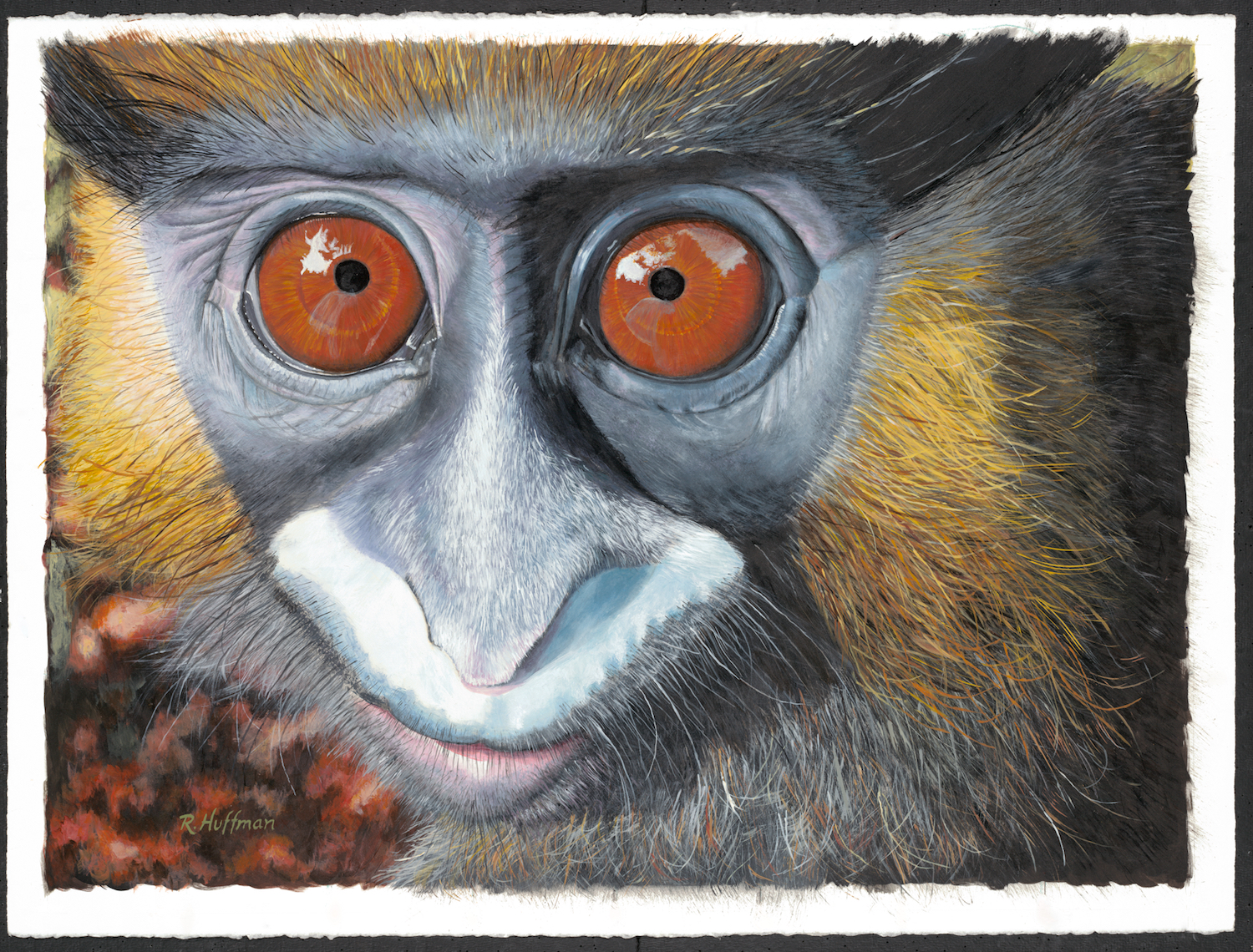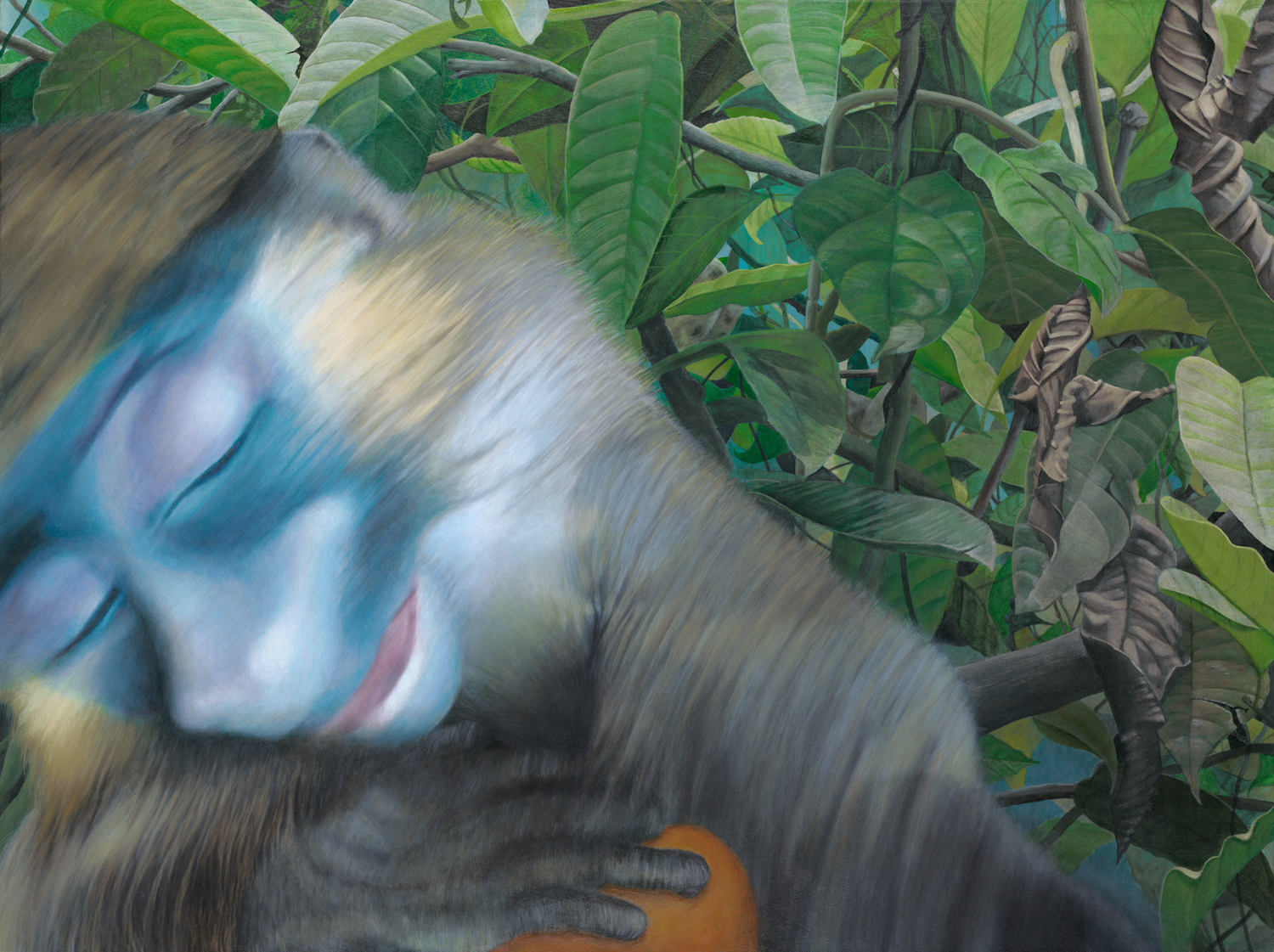 Click here to see more of Robin Huffman's work.
Related:
These Aren't Photographs. They're Arinze Stanley's Hyperrealist Drawings
Hyperrealistic Paintings of Chrome Masks Celebrate African Art and Beauty
These Hyper Realistic Masks Are Absolutely Freaking Us Out
Source: vice.com