It's pretty difficult to reinvent something as self-evident as the houseplant, which has long dwelled in our collective consciousness. But with Flat Houseplants, designer Joyce Lin has mastered the art of turning classic domestic objects on their heads.
Potted plants have been popular for centuries, and as our thirst for domesticating the wild grew, so did our fascination with exotic flora, brought back as specimens from explorations. As biophysicist Laura Jane Martin writes, "The story of how plants moved indoors is a complex one that involves botanical imperialism, the horticultural explosion of the Victorian era, lighting and heating technologies of the 1900s, and changing fashions."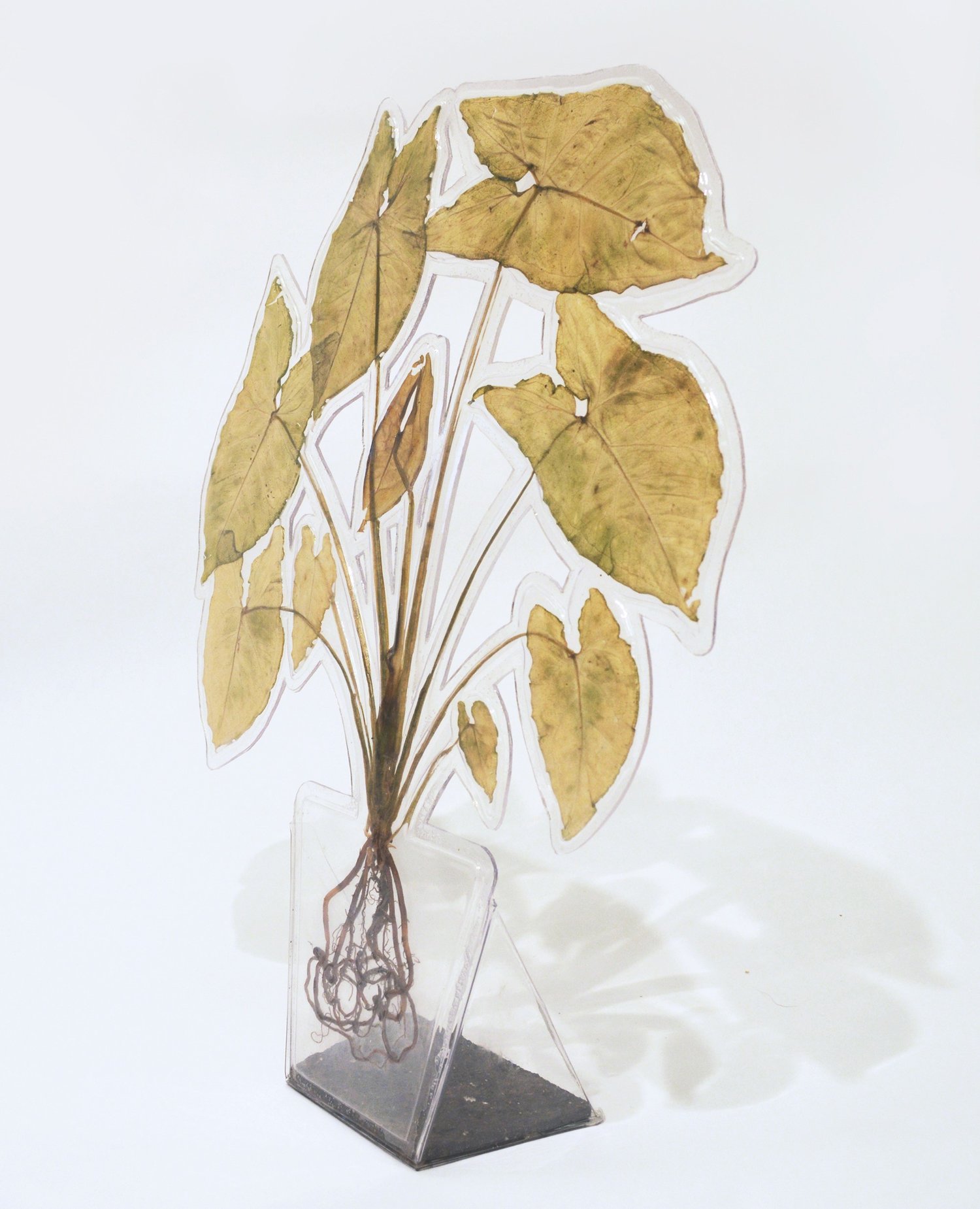 Houseplants are natural products commercialized and sold back to us by a multibillion dollar industry, symbolic of humanity's drive to own little pieces of nature and integrate them into our artificial environments. These bursts of green remind us of life when we are surrounded by concrete or when winter has stifled the foliage outdoors. Evolutionary psychology has shown that houseplants have enormous influence on our emotions, moods, and memories.
Lin, who is currently earning a dual degree in furniture design (at RISD) and geology-biology (at Brown University), implements her combined knowledge to explore the convergence of the natural and manufactured worlds. By examining properties of traditional materials and objects from new vantage points, Lin investigates the seemingly commonplace, rearranging our mental furniture.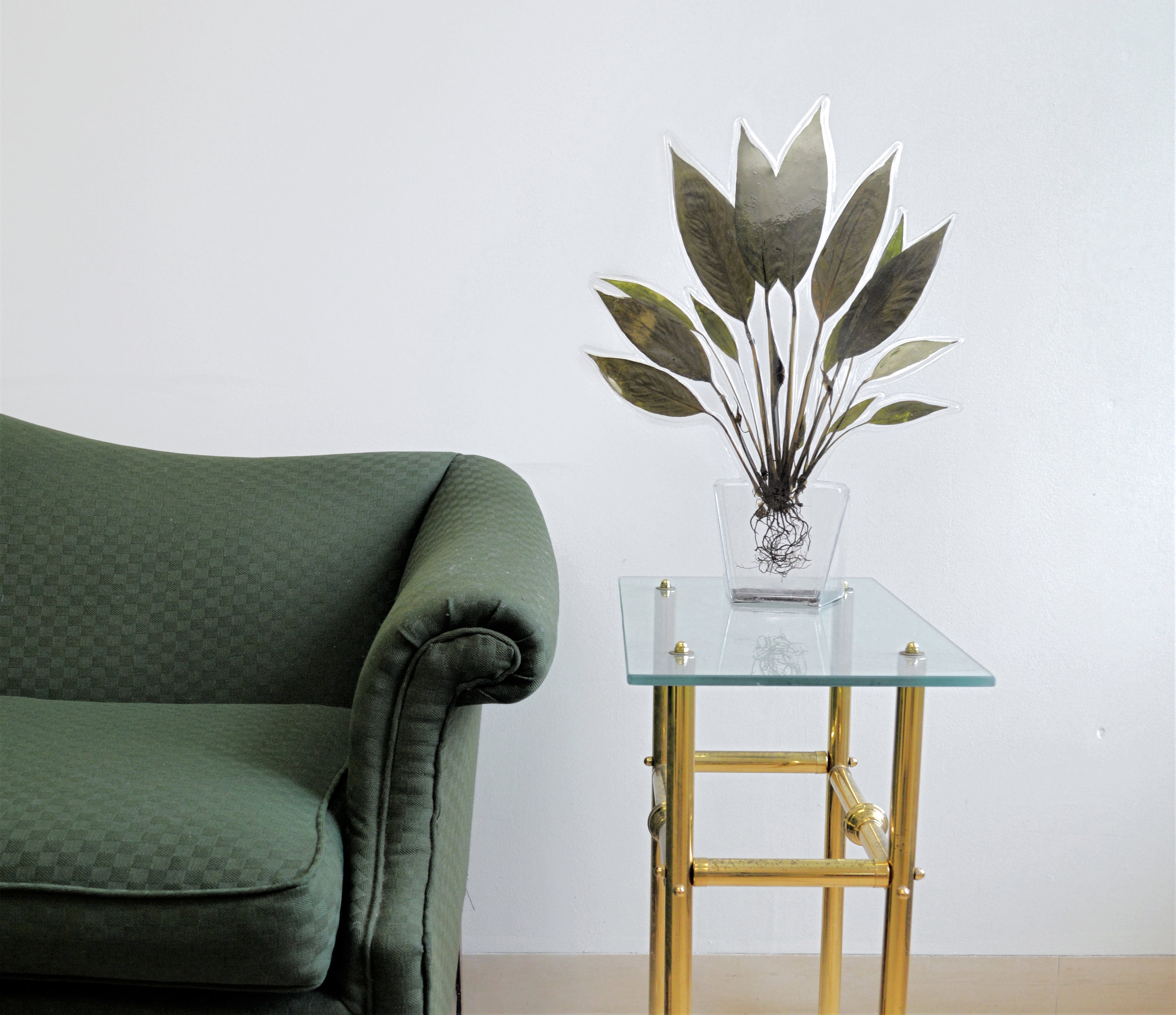 "I wanted to explore houseplants as nature reduced to decorative objects for the home," Lin tells Creators. "I flattened three standard houseplants, soaked them in glycerin for a few days (for preservation), and trapped them between vacuum-formed plastic molds, suspended above a base of soil and epoxy. The plastic is welded together with a solvent and airtight."
By uprooting and encasing the plants in a display, cutting them off from nutrition, they are reduced to a novelty, a decorative commodity rendered into a single dimension. Simultaneously displayed and preserved in the plastic, the physical form of the plants remains while their connection to the life cycle and to nature is stripped away.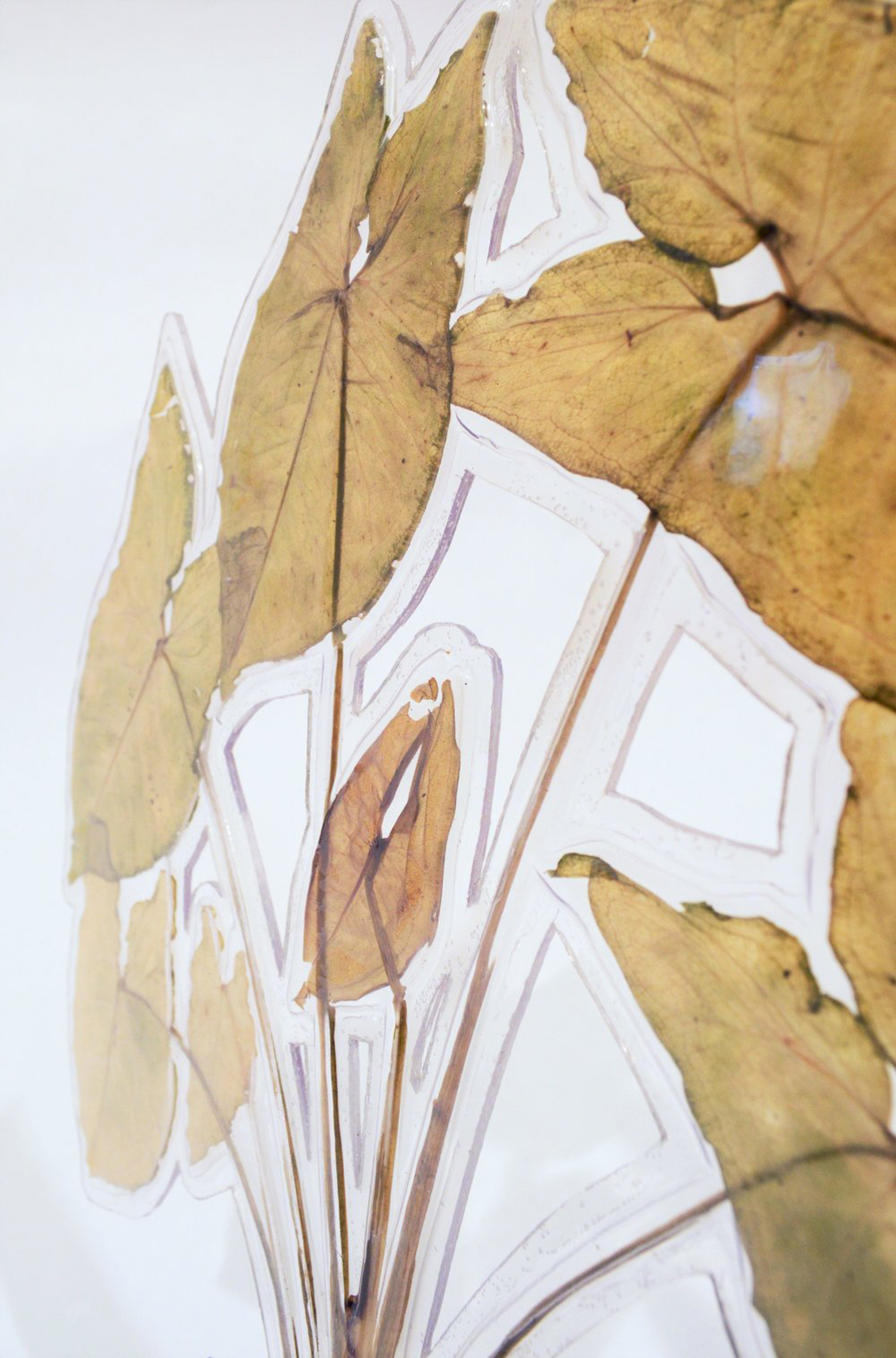 "I'm still observing the long term effects on the plants—they've been sealed for about 1.5 months and so far it's just been varying degrees of yellowing/browning. They haven't yet undergone the usual process of drying out or decay, but I suspect they'll slowly continue to discolor over time," says Lin.
"My project turns real plants into flat aesthetic props while leaving their whole structure exposed. I'm very interested in the ways in which we superimpose our ideals over our physical realities," Lin explains. "This is part of an ongoing body of senior thesis work centered around ideas of interconnectivity and isolation between ourselves and our environment. I'm inspired (or rather disturbed and fixated) by the opaqueness of the manufactured world where methods of production and disposal are obscured. So much of my work uses clear plastic as both confronting the iconic 'modern material' and as a way of providing literal transparency in my objects."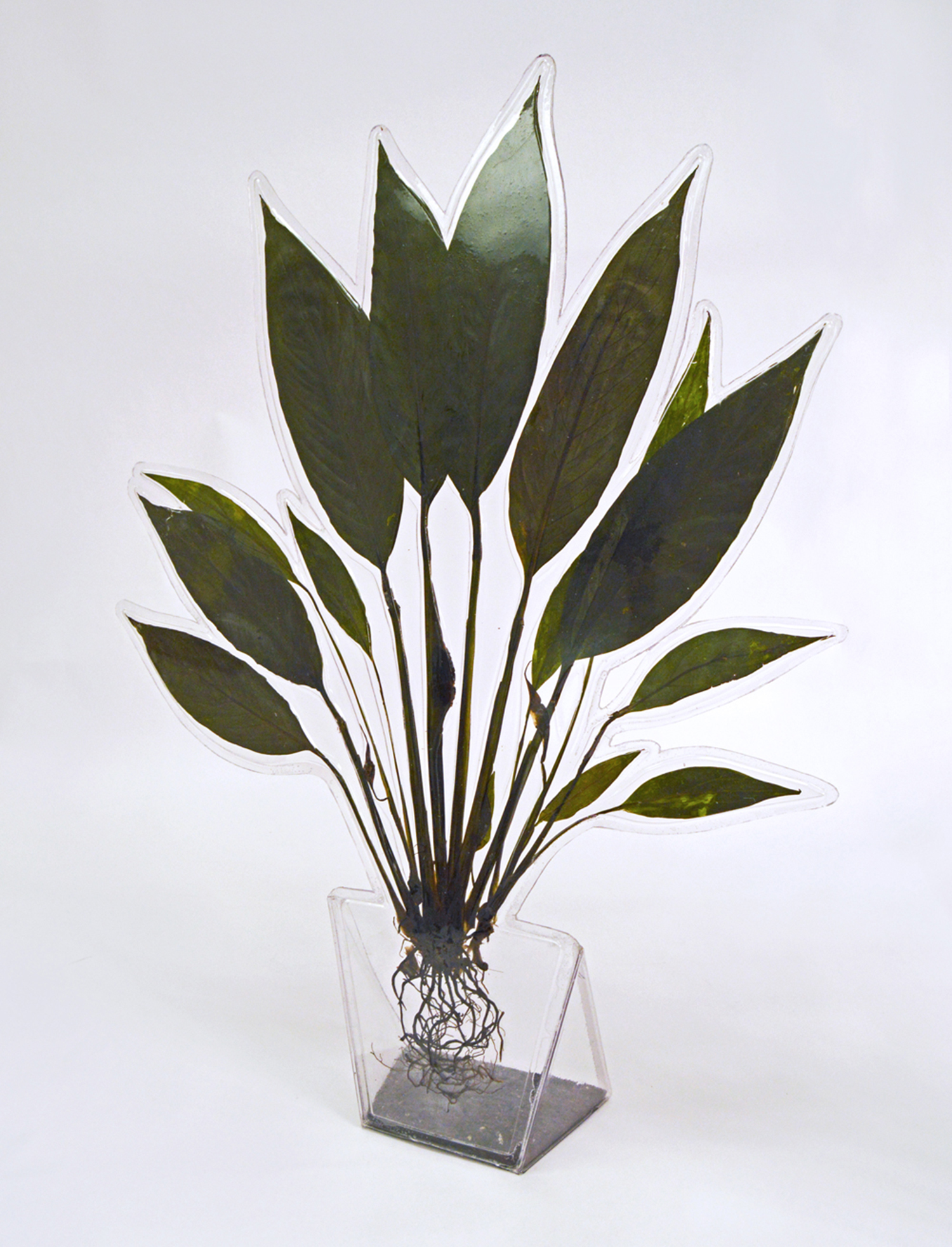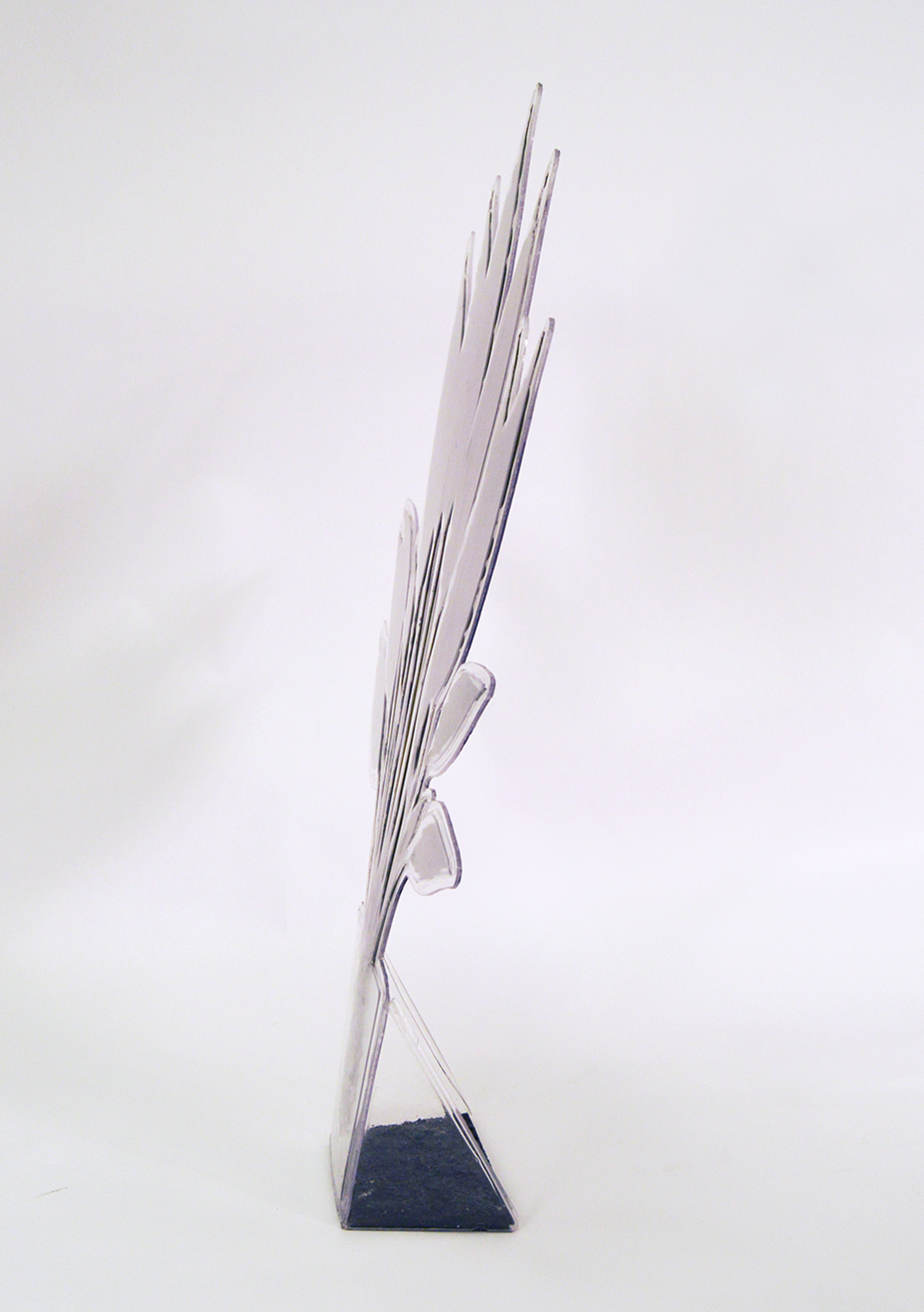 One of these other works is the brilliant Exploded Chair. This dynamic and original design takes the idea of a chair and encapsulates its classic elements within plastic. It's simple, and it's smart.
"My work is a response to themes of inter/dis-connectivity with our environment," says Lin on her website. "I built an archetypal maple wood chair and dismember it in clear acrylic boxes. The parts are loose in the boxes and shift positions when the chair is moved. The superimposition of one chair form over another emphasizes both the joinery of its parts and the form as a whole, raising questions about the function of a chair versus its physical reality and ideas about material and permanence."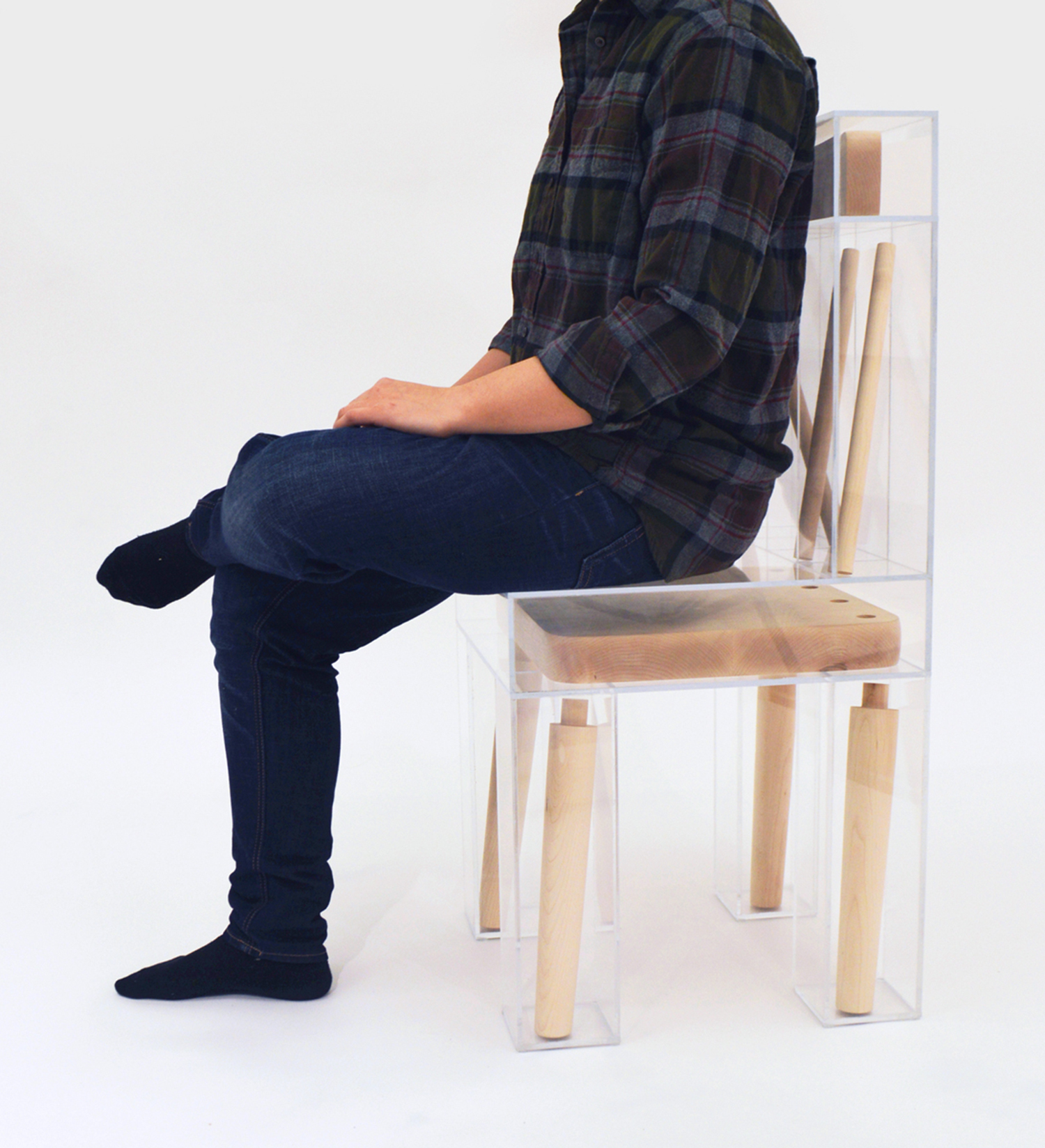 The chair and the plants, considered as a series, together become props for a familiar, yet absurd, domestic setting. With outstanding clarity, Lin manages to approach iconic objects with a fresh perspective that challenges us to examine established relationships between humans, objects, and nature.
See more of Joyce Lin's work here.
Related:
This Woodland Design Farm Actually Grows Furniture

Cardboard Furniture Unfolds Like A Pop-Up Book

The 'Balloon Chair" Will Elevate Your Home Decor Game
Source: vice.com