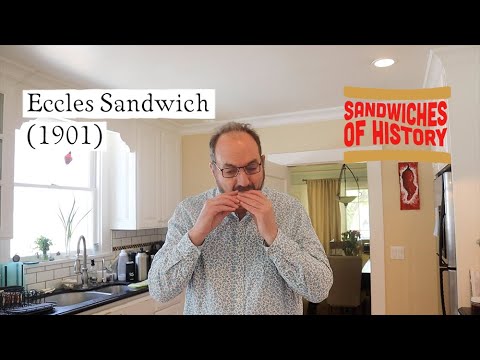 It is true that no sandwich surpasses the Reuben, but there are other historic sandwiches worth considering and YouTuber Barry Enderwick is touring them in his kitchen. His channel, Sandwiches of History, shows him recreating sandwiches that appear in old recipe books.
Among them is the Eccles Sandwich, which appeared in May E. Southworth's 1901 book One Hundred and One Sandwiches. The origin of the name is mysterious, but the recipe is not.
To make it, Enderwich needed fresh maraschino cherries. This is not what you can find in jars at grocery stores and served on ice cream sundaes. True maraschino cherries should be made from freshly picked cherries that soaked for two weeks in maraschino liqueur. Enderwich chopped these cherries and added them to bread, along with chopped almonds.
Enderwick licked the result, but added shaved chocolate to the sandwich as an improvement. He suggest that a heavy, sweet cream would help the loose contents of this sandwich bind together.
In an interview with Atlas Obscura, Enderwick explains that he launched this project when a friend sent him a 1909 sandwich recipe book with some weird dishes. The first that he tried consisted of chopped, raw oysters with Worcestershire sauce, lettuce, and buttered bread. What was his judgment? Enderwick determined that "this was nasty."
Source: neatorama