Chilewich released their Spring/Summer 2018 line-up of textiles and it's getting us excited for the warmer season ahead. The New York City-based company, whom we've featured many times for their innovative textile creations for the modern tabletop and floors, is launching new yarns, weaves and tufted textures in shades inspired by colors from a budding garden or shades of seasonal fruits. Take a look…
Mini Basketweave is inspired by the colors from a flower garden, the epitome of spring.
Float is named for the different color of yarns that seem to "float" between the weaves.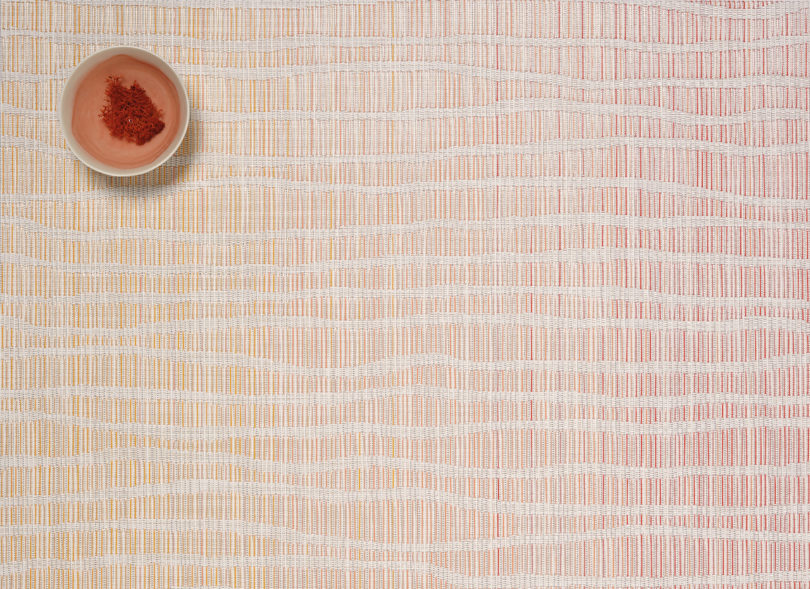 Selvedge is a subtle, neutral weave marked by thin grid lines.
Market Fringe is a mat created with yarns made from scratch by twisting strands of tonal colors together at a small weaving mill in Los Angeles and then finished in a factory in Georgia.
Glow is a printed textile design with a soft gradation that seems to "glow" off the table.
Honeycomb has an intricate woven texture with strands appearing and disappearing throughout the weave.
Heather Shag is a mat perfect for the outdoors with its light and bright colors.
Basketweave uses 6 different colors to create a textile that resembles denim.
Mosaic uses a distinct Jacquard pattern and bi-color yarns to create the mosaic pattern.
Last but not least, Color Tempo is a color-blocking pattern of warm peach shades.
PS: Catch our podcast episode on Clever with Sandy Chilewich here and a Deconstruction breakdown of the Grid pattern here.

Source: design-milk