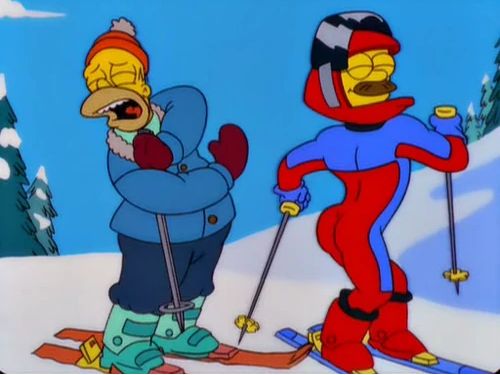 Writers for long-running comedy shows know that ideas fly so fast and thick that it's hard to keep up with them. Some ideas are a go, while others are rejected, but may come up again much later. These ideas are often modified, leading to many contributors being credited. And you never know which jokes will resonate with the audience or be remembered years later. And so it is with "stupid sexy Flanders," a Simpsons scene in which Flanders wears a form-fitting ski suit that emphasizes the roundness of his butt, a sight that Homer can't get out of his head. "Feels like I'm wearing nothing at all!" Flanders says. Viewers couldn't get it out of their heads, either.   
The scene is from The Simpsons episode "Little Big Mom," from the show's 11th season in the year 2000, which is typically considered to be toward the tail end of The Simpsons' "Golden Age." While the joke was enormously funny at the time, in the years since it's enjoyed a healthy afterlife at comedy conventions as well as online, where it's become one of the most enduring of Simpsons memes of all time. But to get to the bottom of Flanders' sexy bottom, the story doesn't start with "Little Big Mom." Rather, the seeds for Flanders' sexy ass were planted all the way back in the show's fourth season.
Read how the groundwork for stupid sexy Flanders was laid over the years, and about the afterlife of that particular scene as it became an internet meme, at Mel magazine.
Source: neatorama