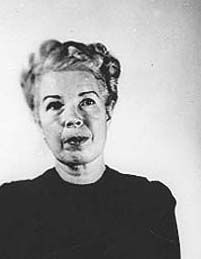 You know about Tokyo Rose, but did you know the Nazis had their own woman on the radio, feeding propaganda along with popular music? "Axis Sally" was the nickname of American citizen Mildred Gillars, who had dreams of becoming an actress. Instead, she followed a series of lovers to various countries and ended up broadcasting in Berlin.
For her part, Gillars vacillated easily between playing hot swing-era, big-band hits and denouncing the Jews, Franklin Roosevelt and the British on air. "One thing I pride myself on," she'd say in a typical broadcast, "is to tell you American folks the truth and hope one day that you'll wake up to the fact that you're being duped; that the lives of the men you love are being sacrificed for the Jewish and British interests!"

She was very calculating, though, pushing back whenever she worried the text she was given to read on air went too far—"If she had something in the script that she thought was going to make her liable for treason in the future she fought it," Lucas says.
It didn't work, and Gillars was convicted of treason in 1948. Read the short version of Axis Sally's life as told by Richard Lucas, author of the book Axis Sally: The American Voice of Nazi Germany, at Smithsonian.
Source: neatorama