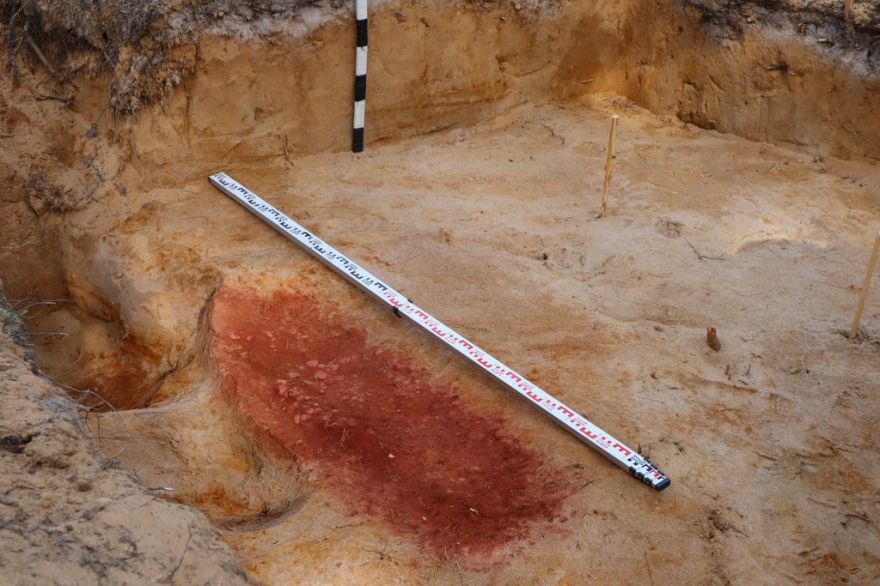 Archaeologists from Petrozavodsk State University in Russia have discovered a burial site of an 'amber man' who was painted with ocher, a red pigment used to mark a grave so it wouldn't be disturbed. In addition to the distinctive paint job, the man, who was estimated to be from the Copper Age, was also buried with more than 100 pieces of jewelry. The man must have been rich when he was alive! Artnet has more details:
The man buried in the chamber was almost certainly of high social standing, and may have been a trader himself from the Eastern Baltic States.
The objects included pendants, discs, and amber buttons "arranged in rows face down" and sewn onto a covering made of leather and placed over the body. Another two tiers of amber buttons were found along the edges of the small grave.
The flint chips found are likely from tools placed over the body and "are clearly so-called votive items—offerings apparently symbolizing whole knives and arrowheads," researchers said in their paper.
The unique aspect of this particular burial, they said, is that it is an individual grave. Other burials dating to the Mesolithic era and found in the forest belt of Europe are large cemeteries.
Burials with such a large number of jewels were previously unheard of in this area of Karelia, nor have they been uncovered in nearby northwestern regions.
Image credit: Petrozavodsk State University
Source: neatorama