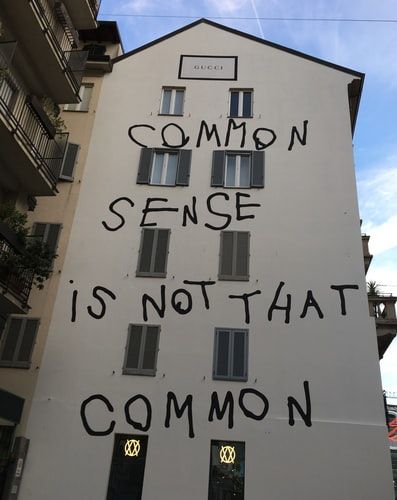 I've always thought that common sense is common. That is, I thought what's normal and even reflex thing to do for me is also what other people automatically do. I found out how wrong I was when I had a boyfriend, and we were very different.
What's common sense for me is not common for him, and vice versa.
This is further explained by Michelle vanDellen in her article at Psychology Today,
Common sense has the same two problems as moderation. First, common sense is ambiguous. Without clear guidelines about how to behave, common sense leaves too much open to interpretation and will be difficult to enforce.
Second, common sense is not really common at all. No one is likely to agree about what common sense is. Sometimes these differences will be reasonable—what's common sense in a city is not the same as what's common sense in a small town. But other times these differences could be problematic, especially because people are likely to be biased by what they want to do. The more people want to do something, the more they are going to think it fits into the category of common sense, just the way our participants who liked gummy snacks were more generous in their beliefs about how many fruit-shaped treats could count as moderation. We aren't going to agree about what's right when it's influenced by our beliefs.
(Photo by Andreas Fickl on Unsplash)
Source: neatorama