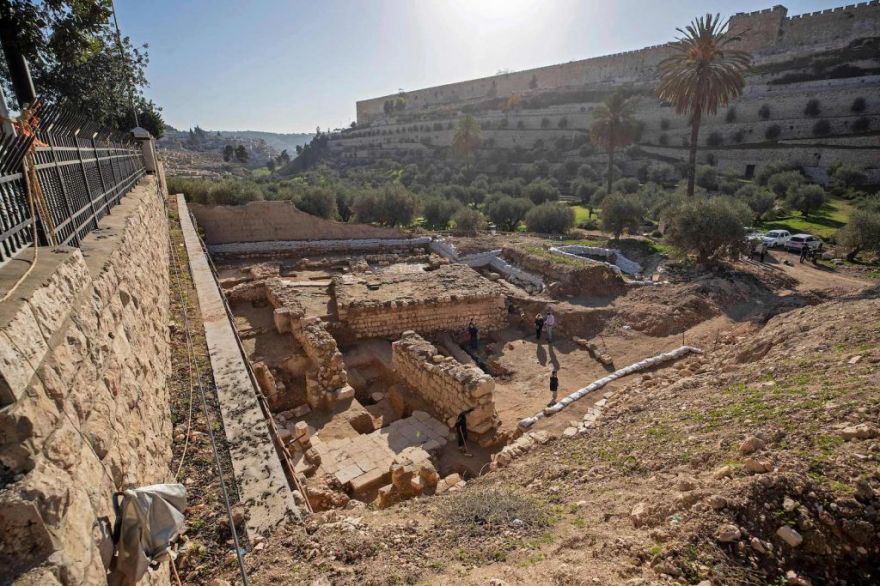 The remains of a long-lost Byzantine church that is believed to have been near the site of the Last Supper has been uncovered in Jerusalem. In addition to the church, archaeologists have also found the foundations of a 2,000-year-old Jewish ritual bath. The area, known as the Church of the Agony and the Church of All Nations, was built on the spot where Judas is thought to have betrayed Jesus with a famous kiss:
The church is decorated with finely carved stone elements, indicating its importance. Alluding to Jesus's sacrifice, Greek inscriptions on the building's floor read: "for the memory and repose of the lovers of Christ… accept the offering of your servants and give them remission of sins."
The bath, or mikveh, emerged during a construction project, and while many such baths have been found in ancient Jerusalem, this is the only one to have emerged in Gethsemane, reports Haaretz.
Gethsemane means "oil press" in Hebrew, and the name has been interpreted to refer to the manufacture of olive oil.
"The Jewish laws of purification obliged workers involved in oil and wine production to purify themselves," Amit Re'em, an archaeologist for the Israel Antiquities Authority, said in the statement.
"The discovery of the ritual bath may therefore hint at the origin of the place's ancient name, Gethsemane (Gat Shemanim, 'oil press'), a place where ritually pure oil was produced near the city."
"This is a significant discovery, shedding new light on how Gethsemane was used at the time it is mentioned in the Gospels," says archaeologist Ken Dark, who recently identified what he believes may have been Jesus's childhood home in Nazareth, about 95 miles to the north.
Image via ArtNet
Source: neatorama