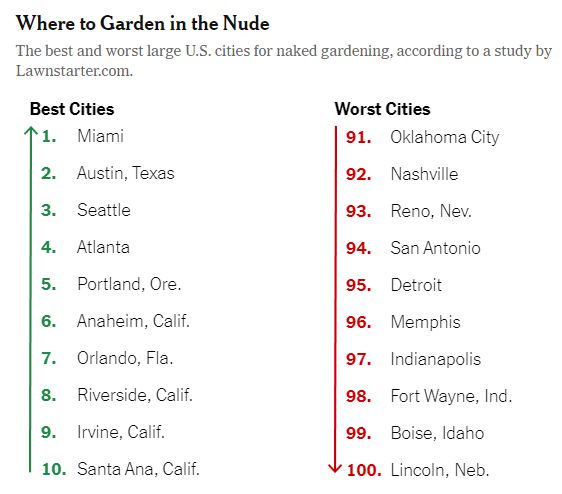 It is the duty of every citizen in a free republic to stay informed of current events that affect public policymaking. Consuming quality sources of news on a daily basis should be a daily habit. You could include, among those sources, the New York Times. This respected publication would like for you to know which American cities are the best and the worst for gardening in the nude. And so it presents the above list (paywalled), using data compiled by the lawncare company LawnStarter, to keep you in the know:
The study used a number of metrics, including: the percentage of nudists and the friendliness of laws governing public nudity and toplessness in each city; local Google searches for "nudist" and "World Naked Gardening Day"; safety concerns, addressed by measuring the number of registered sex offenders amid the population; weather-related factors such as temperature, rain and wind speed; and a previous Lawnstarter study ranking the best cities for urban gardening. The resulting top and bottom 10 cities are uncovered in this week's chart.
I'm shocked to see San Antonio at the bottom. My in-laws are in that city. When I next visit them, I will engage in research to verify if this conclusion for myself.
-via Dave Barry | Image: New York Times
Source: neatorama