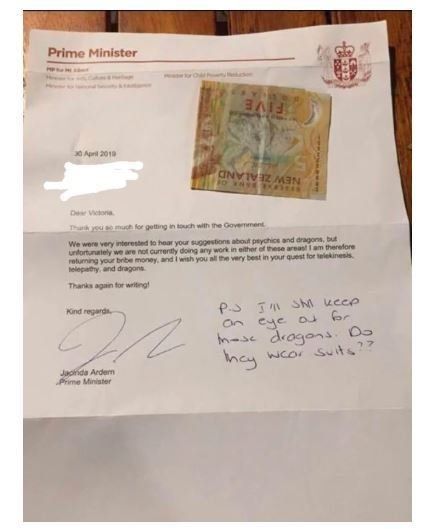 Armed with her $5, the girl decides to bribe New Zealand Prime Minister Jacinda Ardern into launching a study about dragons and some physics. According to Reddit user honeybee6992, his littlest sister, 11-year old girl Victoria, wanted the government of New Zealand to make her telekinetic, and share their knowledge of dragons to her. She also wanted to know if the government have found any dragons, so that she could train them.
"She does love how to train your dragon. She also loves stranger things, that's where the request for telepathy and telekinesis comes from.
She can't remember exactly what she said, but from what she told me it was rather strongly implied." – honeybee6992
Unfortunately, the Prime Minister was not swayed by the bribe, and kindly rejected the offer, saying in a letter "that they are not currently doing any work in either of these areas" and therefore is returning Victoria's bribe money.
(Image Credit: Reddit/ NPR)
Source: neatorama