When we asked Chicago-born and LA-based artist Hebru Brantley about current influences coloring his work today, Brantley doesn't drop a beat before answering with an assured, "Me!" The response, while ostensibly confident is also an understandably honest assessment, noting his body of work is collected by the likes of everyone from LeBron James, Beyonce, and George Lucas.
Brantley's portfolio is often characterized by its utilization of anime and Afrofuturism imagery, an easy summary, but vastly incomplete. Taken as a whole, Brantley's work has gone to inhabit its own self-referential universe, one defined by the artist's own color palette and progressively dedicated to transmitting an ongoing heroic Black American narrative. In many ways Brantley has become the protagonist of his own story, by way of his tandem of Frogboy and Rocket characters.
Brantley's latest collaboration with footwear giant adidas is not his first foray into sneakers as canvas. The artist imbued the adidas Rivalry Hi with his 'Flyboy' motif for Art Basel back in late 2019, a drop that remains highly sought as a rarity parallel to his own personal work. Brantley has adapted a similar approach to the recently launched adidas Forum Low Hebru Brantley & adidas Forum Mid Hebru Brantley silhouettes, each embellished with a playfully realized level of detailing featuring the artist's signature Frogboy and Rocket characters paired with contrast lacing, hand-drawn rear quarter trefoil branding, and illustrated sock liners. We spoke with Brantley about this recent project and the metaphorical iconography that gives these kicks another layer to appreciate.
I don't think that Afrofuturism has ever been about or relying upon trends. Afrofuturism is the barometer for change, in and of itself. It has always been years ahead of the curve – less following or traveling the curve.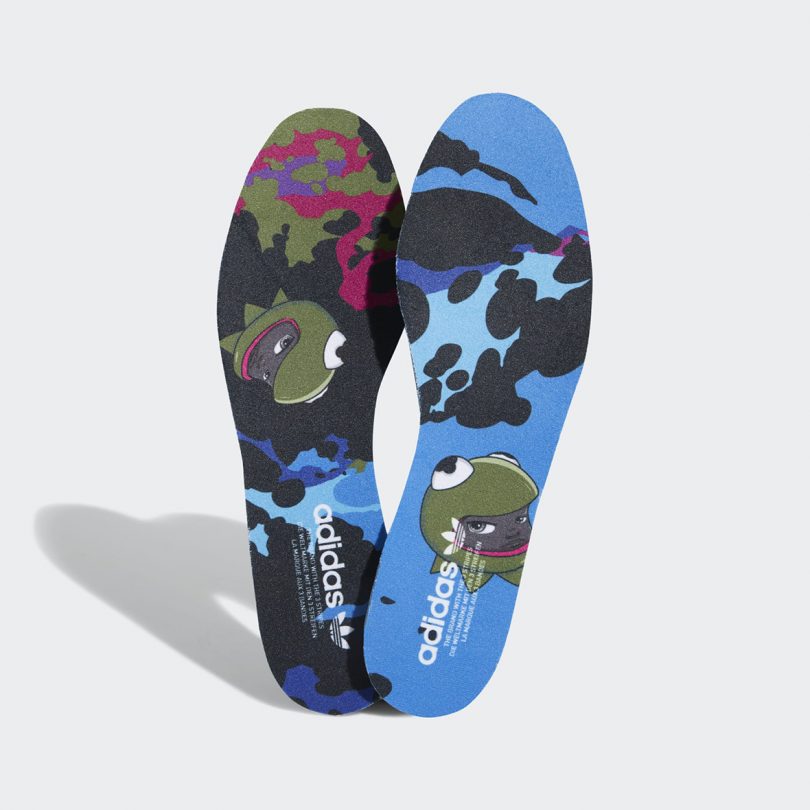 The adidas Forum is an iconic silhouette, but one you've already used as a canvas before. Did you approach this recent collaboration differently since your last adidas Rivalry Hi collaboration [for Art Basel]?
It starts with having an understanding of what the medium is – canvas, shoe, or piece of paper. My approach is always to try a few different things, throw everything at the wall and see what sticks. The hardest part about designing shoes or apparel is that it really does feel limitless at times, with all of the options of leathers and shoelaces and different materials it can be daunting to settle on one idea because you have such a big place to play in.
On whether my approach has changed since my last collaboration, I still approach it in the same way, but I just go into it with the things that I learned from my last collab, and for that things seem to come together a bit faster.
In comparison to your own personal work is there a layer of collaborative/adaptive process unique to designing shoes?
There is a sense of collaboration in the process, especially because this isn't my product. I'm only adding my aesthetic to an already iconic silhouette.
Many 80s and 90s cultural influences have returned as part of youth culture, albeit through reinterpretation markedly different than those original defining decades. What do you believe the future of Afrofuturism may be for generations ahead?
I don't think that Afrofuturism has ever been about or relying upon trends. Afrofuturism is the barometer for change, in and of itself. It has always been years ahead of the curve – less following or traveling the curve. As far as trends go, I see them to move in cycles, looking into the past to bring things to the present. That's the way fashion, storytelling, music, and film go, it all goes in a circle. We will always be looking back in order to go forward.
Interestingly, when asked about any social messaging specific to each of the Frogboy and Rocket themed silhouettes, Brantley is hesitant to assign any overt or covert missives specific to each style's visuals. "I was generally given the opportunity to expand on my characters and my universe to these collaborations has always been on the bucket list," explains Brantely, "The colors correlate to the palettes I use in a lot of my paintings."
A closer inspection of Brantley's application of his palette and long-developed universe as detailing across these two shoes may reflect a different answer though. The video profile above reveals while the 2022 adidas Forum Low Hebru Brantley & adidas Forum High Hebru Brantley shoes can be appreciated aesthetically alone, they're also adorned with details serving an inspiring futurist's vision of freedom, agency and hope.
The adidas Forum Low Hebru Brantley and adidas Forum Mid Hebru Brantley shoes are available globally through adidas.com, CONFIRMED, and select retailers.
This post contains affiliate links, so if you make a purchase from an affiliate link, we earn a commission. Thanks for supporting Design Milk!
Source: design-milk