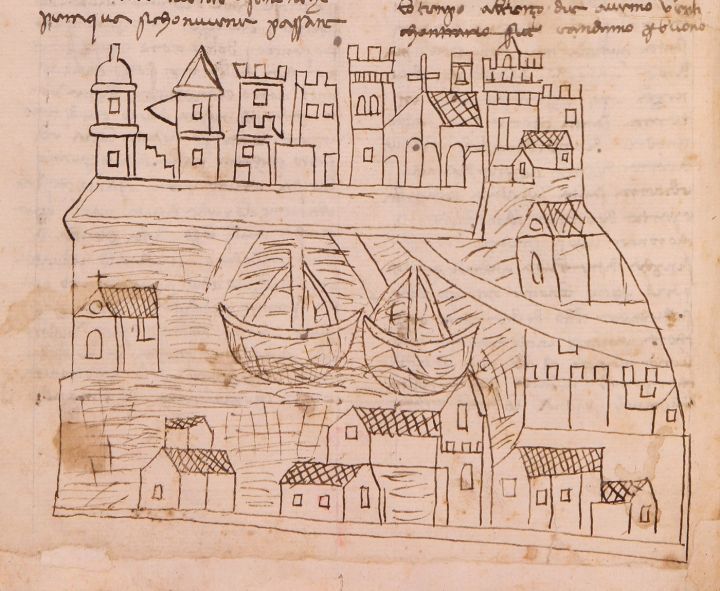 The University of St. Andrews' Dr. Sandra Toffolo has uncovered the oldest known depiction of Venice. The drawing is in the collection of the Biblioteca Nazionale Centrale in Florence, Italy. Dr. Toffolo discovered the drawing in May 2019 as part of a travel manuscript by Italian pilgrim Niccolò da Poggibonsi. Poggibonsi traveled to Jerusalem from Italy in 1346-1350. Hyperallergic has more details:
Dr. Toffolo made the discovery while completing researching for her monograph Describing the City, Describing the State. Representations of Venice and the Venetian Terraferma in the Renaissance, which will be published with Brill in early 2020.
"… Venice is one the most-depicted cities in history," said Dr. Toffolo, in an email interview with Hyperallergic. "From the 14th century onwards people have continuously depicted the city in manuscripts, printed books, paintings, and countless other media. My own research focuses on representations of Venice in the Renaissance."
Dr. Toffolo's book provides a detailed analysis of descriptions and visual representations of both the city of Venice and the Venetian mainland state during the Renaissance, when Venice came to stand at the head of a large state on the Italian peninsula.
image via Hyperallergic
Source: neatorama