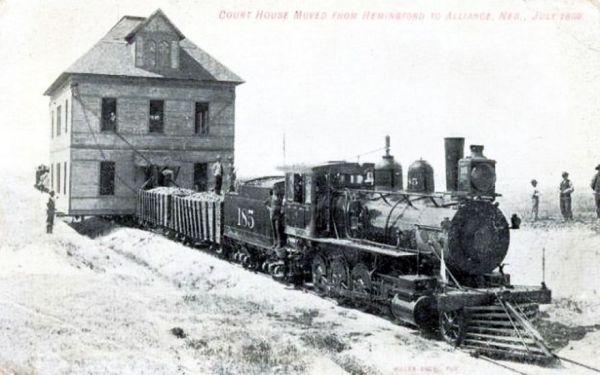 Box Butte County, Nebraska, was born in 1886 when it separated from Dawes County. Its first county seat was the village of Nonpareil, then Hemingford, then Alliance, all moves that county residents voted for. But when Alliance became the county seat, there was some question of what to do with the courthouse that had been built in Hemingford. It was less than ten years old, and quite substantial.
As you know the building is fifty feet long by forty wide[,] two full stories in height with a heavy truss roof and constructed with a heavy hard pine frame. As there were two cuts to pass through the building was raised on timbers high enough to clear the banks and when ready to start it was fifty feet from the railroad track to the top of the deck on the building. The weight of the building was estimated at 100 tons.
The decision was made in 1899 to move the courthouse. The first attempt was a disaster, moving the building only 15 feet in ten days. Then the railroad was mentioned. Read the story of moving the Box Butte courthouse at Amusing Planet.
Alas, one has to wonder how much stress the move put on the building, since they built a new Box Butte County courthouse in 1913.
Source: neatorama