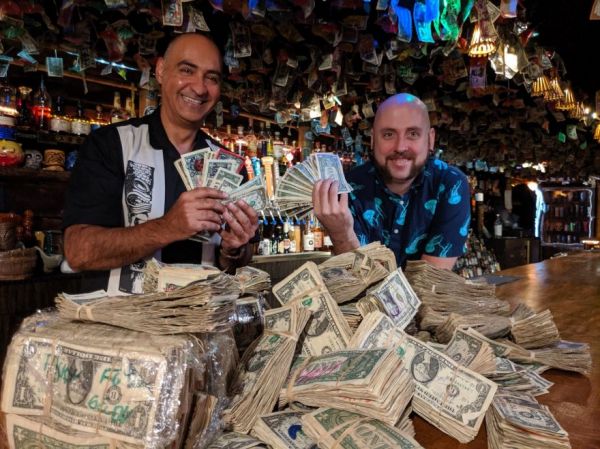 During World War II, servicemen shipping out to the South Pacific would write their name on a dollar bill and tack it to the ceiling of their favorite bar the night before leaving. On returning, they would head to the bar, retrieve their dollar, and buy a drink. A veteran who knew that tradition stuck a dollar into the ceiling of the tiki bar Forbidden Island in Alameda, California, some ten years ago. He used a little paper umbrella to attach the bill to the ceiling. That started a tradition, as other patrons followed suit, many of them decorating their bills with doodles and messages. The ceiling was covered in paper money, as well as nearby light fixtures, when the bar's owner, Michael Thanos, decided to take it all down.
It was a bigger job than they had first realized. As it neared opening time, they had to stuff the cash in four big garbage bags to deal with at later time. "And it was a really dirty job. We had to wear gloves and face masks because there was layers of fire retardant and dust," reported General Manager John Peterson. When they got back to sorting and counting it, they were surprised to learn they had a significant amount of money on their hands.

"$10,367 to be exact," said John.
The even better part of the tale is what they did with the money. Read the whole story at Boing Boing.
(Image credit: Rusty Blazenhoff)
Source: neatorama