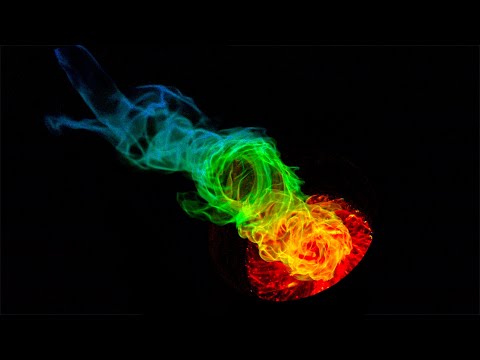 The Slow Mo Guys made a fire tornado in 2015 and rainbow colored flames in 2016. Now Gavin Free has combined the two experiments and recorded a burning rainbow tornado on their 1000-fps camera to give us a real good look at it.
The colors are made by burning different chemicals, and the tornado is thanks to 14 fans aimed obliquely at the fire. The surprise comes when the different burning chemicals express their colors at different flame heights, instead of colors just twisting around each other. It just looks neat! -via Laughing Squid
In case you're wondering where Free's usual partner Dan Gruchy is, they were separated by the pandemic. The videos are normally recorded at Dan's home in Texas, but this one comes from Gav's home in Britain. With travel restrictions easing, we hope to see the two Slow Mo Guys together again soon. See some of their previous videos.
Source: neatorama