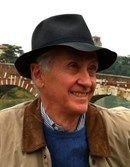 The obituary for Rick Stein of Wilmington, Delaware, tells us that he was 71, and that his memorial service will be held on November 9. That's about all the concrete information it has. The rest is a mystery. For example, it appears that everyone who knew him thought they knew what he did for a living, but none of their stories match. His daughter thought he owned several restaurants. His brother said he was a jeweler and an oriental rug dealer. Other relatives were sure he was a writer, but couldn't agree whether he was a political satirist, sports columnist, or a YouTube star.
When told of his uncle's disappearance, Edward Stein said he was baffled since he believed Stein worked as a trail guide in Rocky Mountain National Park. "He took me on a hike up the Lily Peak Trail back in the 90s. He knew every berry, bush and tree on that trail." Nephew James Stein of Los Angeles claimed his uncle was an A&R consultant for Bad Boy records and ran a chain of legal recreational marijuana dispensaries in Colorado called Casablunta. Niece Courtney Stein, a former Hollywood agent, said her uncle had worked as a contributing writer for Seinfeld and Curb Your Enthusiasm and was currently consulting on a new series with Larry David.

People who knew Stein have reported his occupation as everything from gourmet chef and sommelier to botanist, electrician, mechanic and even spy novelist.
No one knows when or where Stein died, either. Investigators say he was piloting a plane that disappeared over the Atlantic Ocean. Others say he died in a hospital. And some have a suspicion that he didn't die at all. Read more in the obituary at Delaware Online. The messages left with the obituary are full of people who recall meeting Stein under outrageously fictional circumstances. -via Digg
Update: The obituary was written by Stein's daughter.
Source: neatorama