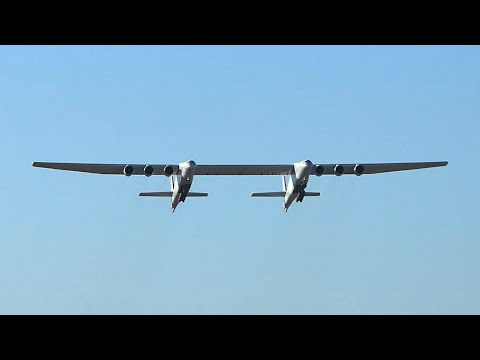 With a wingspan of 385 feet, the Roc (named for the legendary gigantic birds) can carry up to 275 tons of cargo. Specifically, it's supposed to carry rockets high into the air, then launch those rockets into orbit. On Thursday, Stratolaunch, the company which produced the Roc, completed its second test flight. Space.com reports:
Roc reached a maximum altitude of 14,000 feet (4,267 m) and a top speed of 199 mph (320 kph) during Thursday's test flight, which Stratolaunch deemed a success. […]
Stratolaunch is developing its own family of hypersonic vehicles, including a reusable 28-foot-long (8.5 m) craft called Talon-A, which will be the first to fly with Roc. But that won't happen for a while yet; Roc needs to make a number of additional solo flights first, company representatives said today.
If all goes according to plan, the first drop tests with Roc and a Talon-A test article will occur early next year. An expendable version of Talon-A will reach hypersonic speeds later in 2022, and the first flight with the reusable Talon-A variant will follow in 2023, said Stratolaunch chief technology officer Daniel Millman.
-via Nag on the Lake
Source: neatorama